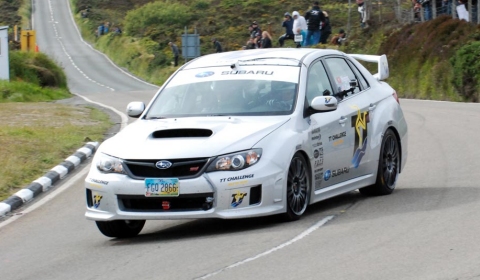 Subaru has released a new YouTube video of the 2011 Subaru WRX STI setting an all-time course record for the historic Isle of Man TT Mountain Course. The 5 minute 25 second video highlights in graphic detail the speed and drama surrounding rally driver Mark Higgins' lap that averaged 115.356mph.
After the run, Higgins talks through the "moment" at Brey Hill when he momentarily loses, and then regains, control of the WRX STI at more than 150mph.
Driving a US specification 2011 Subaru WRX STI, Higgins achieved speeds of 162mph and a lapped time of 19 minutes 37 seconds over the 37-mile track, navigating more than 200 corners.