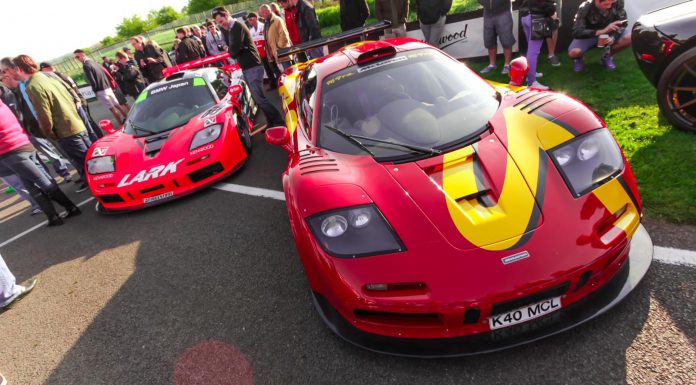 As with previous years, this year we made the trip down to Goodwood Motor Racing Circuit for the annual Breakfast Club Supercar Sunday! Now in its sixth year, Supercar Sunday seems to grow in popularity every year. The one disadvantage for our team is of course that it starts bright and early at 8 am. Those that want to avoid the rush arrive at 7.30 am, being a 2 hour 30 minute drive from the circuit, this meant a 5 am start!
The trip down to Goodwood is always interesting, the circuit itself sits in a picturesque part of southern England. The South Downs runs from Eastbourne to Winchester, so Goodwood sits right in the middle. The chalk hills provide a perfect backdrop for an early morning drive. One of the fantastic things about an event of this scale is that not only do you get to see the cars on display, more often than not, you run into a few for the trip down.
For our trip down today we ran into a Noble M12 and an Aston Martin V12 Vantage Roadster which made the drive interesting. As we got to the event itself, the organisation kicked in. Those that arrived in supercars hoping to display them had to pre-register this year. The general public park in a field, a short walk away from the circuit.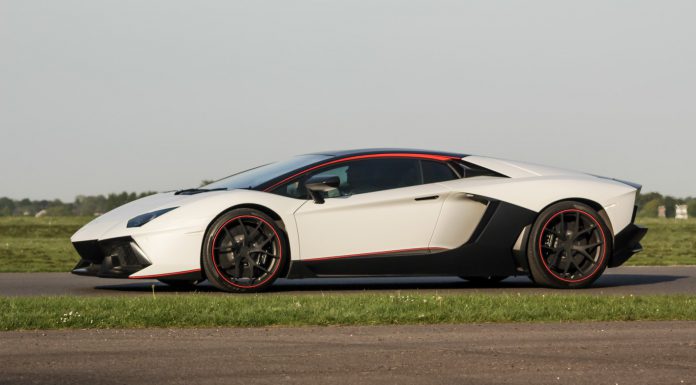 The registration requirement was introduced last year to ensure that the event runs a smoother than it had done in the past. We wondered if it would deter owners from attending as earlier events had relied upon people turning up if it suits them. It seems as though it might have done as we didn't spot anything truly unexpected. No McLaren P1 or LaFerrari for example, however, the quality of cars was high.
The supercar owners who hadn't booked in advance were therefore relegated to parking in the field with the rest of us. We spotted a 360 Challenge Stradale, 430 Scuderia and even a Lamborghini Murcielago LP640 parked in the undergrowth.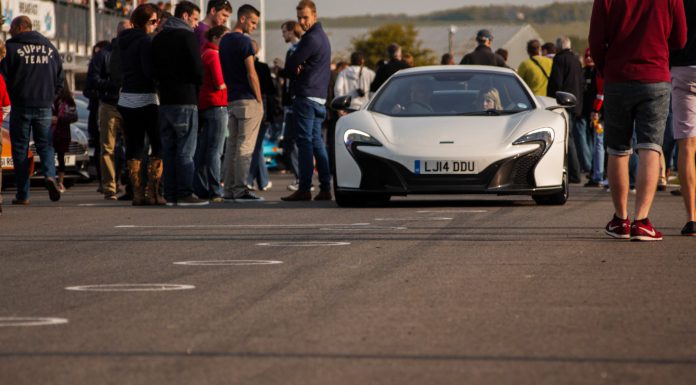 Our entry to the circuit took us through Woodcote corner and past the supercars waiting to park. Immediately we spotted a Ferrari F40, one of at least four we counted at the event. The cars are either given a circuit, paddock or start/finish straight pass. The cars parked on the circuit and in the paddock tend to be the run of the mill Ferrari 458 Italia, F430, Gallardo and 911 models. The more exotic machinery is found on the start finish straight.
The next car we spotted was a new Corvette Stingray, the first we have seen in the UK. It was followed by a Lamborghini Aventador LP720-4 Anniversario and a lime green latest-generation Lotus Exige. It seems as though there is still a lot of love for the British Lotus brand as we spotted a number of Exige, Elise and Evora models on display inside the circuit and in the car parks.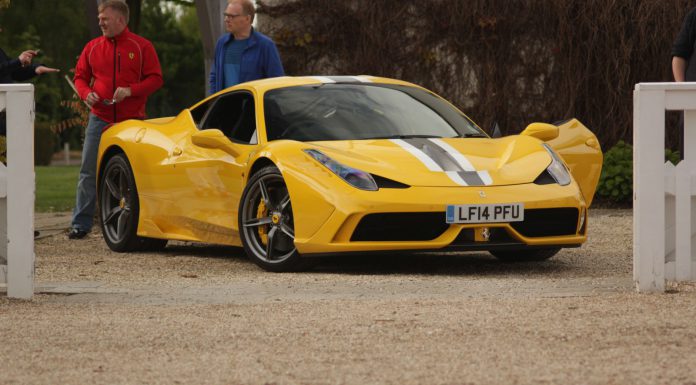 Some of the highlights included two Porsche Carrera GT, two Ferrari 458 Speciale's, a black Ferrari Enzo, two McLaren F1 GTR's, a Mercedes-Benz SLR McLaren and a Jaguar XKR-S GT. A Bristol Fighter also turned up, there can't be too many of these. Our favourites included a rare Lamborghini Diablo GT, a Ford RS200S and a Lamborghini Murcielago 40th Anniversary Edition. Among the crowds we also spotted a Mercedes-Benz CLK DTM that looked as though it had been converted to a road car and a replica Lamborghini Countach (not sure how that passed the supercar criteria!).
A number of manufacturer and dealership test vehicles also added to the spectacle. Supervettura for example took a Koenigsegg CCX and Pagani Zonda F. Lexus bought a number of cars including their famous blue metallic Lexus LFA, the only UK registered LFA. We spotted an Audi Q3RS and three special anniversary Rolls-Royce models including the Wraith, Phantom and Ghost.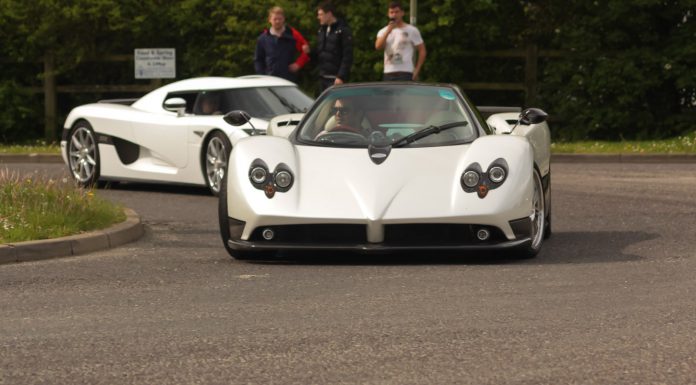 Unfortunately, the Goodwood Breakfast Club Supercar Sunday has fallen victim to its own success. It was so busy that getting decent photographs to share with you was difficult. If anything though, this is probably more of an advantage. We suggest next year you get down to the circuit and take a look at this unique event yourself. The above and below galleries are just a tiny snapshot of what there is to see.