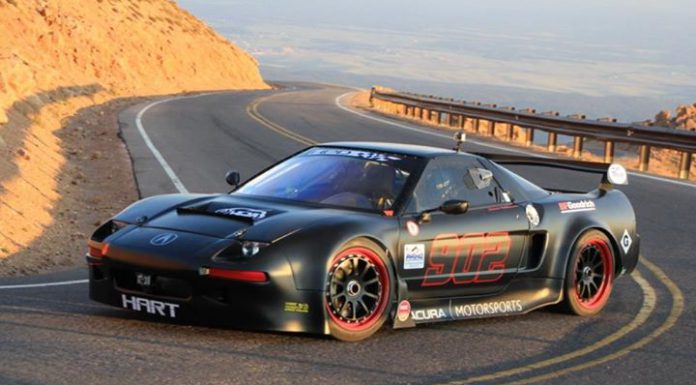 The countdown to the Pikes Peak International Hill Climb 2014 has begun ahead of the epic hillclimb starting on June 29th. Honda is the first manufacturer to confirm its line-up for the hillclimb with it set to compete in seven classes during the event.
While discussing the upcoming Pikes Peak International Hill Climb, president of Honda Performance Development Art St. Cyr said, "Pikes Peak presents us with a unique opportunity to showcase Honda's diverse product lineup and to energize Honda fans around the world, as we work to further strengthen Honda's presence in racing at all levels.
"Our associates will be working hard between now and Race Day to prepare this diverse field of race vehicles and showcase the Honda Racing Spirit."
The most exciting Honda powered car to compete in this year's Pikes Peak will be the Norma racer piloted by decorated driver Romain Dumas in the Unlimited Class. Elsewhere, Honda will field a first-generation NSX in the Open Class, while a potent Honda CBR600RR will enter into the Middleweight motorcycle Class.
Excitingly, Honda will also enter into the Electric Class with an all-electric Honda Fit. In the Time Attach Class, the Honda S2000 based S3700 will compete while finally, another Fit will hit the mountain in the Exhibition Class and an ATV in its respective class.
Note: 2012 Honda NSX Pikes Peak racer pictured