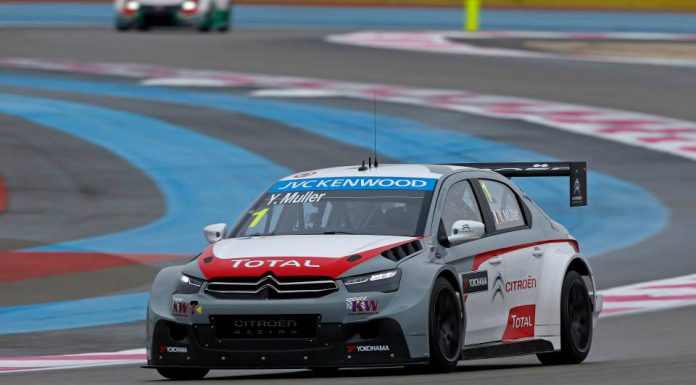 The second round of the 2014 FIA WTCC season went down at Paul Ricard circuit in France this weekend. Yvan Muller won the first race driving for Citroen. He was lucky to start from pole position after scrutineering awarded him the position prior to the race. However, the reigning champion had a tough start as he only managed to take the lead after lap 3 where he led all the way to the chequered flag.
Second place went to Round 1 winner Sébastien Loeb also driving for Citroen and thus giving Citroen a 1-2 podium finish. Third place went to Gabriele Tarquini driving for Honda and this was Honda's first podium finish in the season. Race 2 was not any different for Citroen as they claimed another 1-2 podium finish. Meanwhile, having led for most of the race, Tiago Monteiro driving for Honda was beaten in the last minute to settle for third place.
Yvan Muller said;
My start wasn't really very good but, luckily, a number of opponents did not start very well either. Then, I found my way and could pass Michelisz and Tarquini. I was faster than Norbert, it was a little bit more difficult to pass Gabriele. After that, I tried to stay focused and not panic. In the first part of the race, I kept a quiet pace, as I didn't know what the weather would be like and wanted to save my tires. In the second part I increased the rhythm a bit, as everything was under control. We still haven't a lot of experience with TC1 cars under the rain and I think everybody is still struggling a bit in these conditions as finding the right balance is not that easy. That's probably why everybody opted for wet tires. I hesitated but decided to take no risks.
José María López took a comfortable win in Race 2 while Yvan Muller finished in second while former second place Loeb was forced into sixth place in this race. Loeb has made contact earlier on with Muller and also hit the tire wall at a chicane.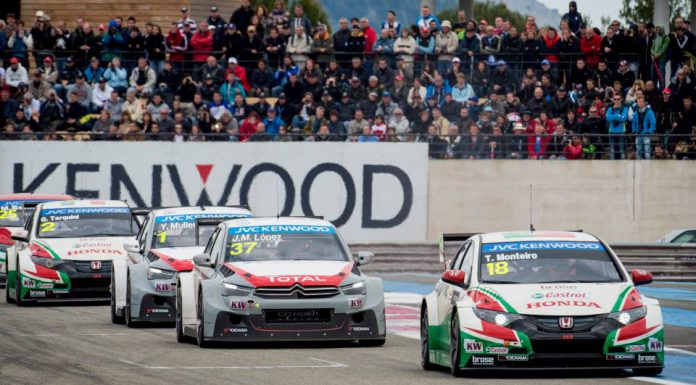 The TC2T class was completely dominated by Franz Engstler who won both races. He had suffered a poor qualifying and a hard crash in race 2 but managed to put all that aside and scooped both wins.
Engstler said;
In the second race there were a lot of up and downs. I had a bad start with too much wheelspin, and after the contact I came back in the last position and had to fight back. After the restart I had a really good reflex, but Filippi hit me so hard and I fell back.

The second safety car period helped me to close the gap, and after the second restart I had a really big fight with Pasquale Di Sabatino. My car was not fine, the steering was completely swerved to the right. But anyway, I was on the lucky side to be able to continue after the crash. Filippi hit me on the wheel, but I nothing was broken, and I am very happy about it.