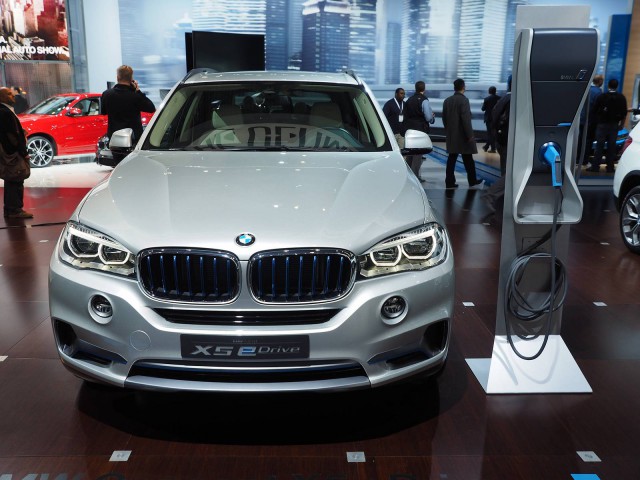 The 'refined' BMW X5 Concept eDrive has made its worldwide debut at the New York Auto Show 2014. Despite BMW promising that the car would be refined from the concept car presented last year, very few, if any, changes are apparent. Curious, we went for a closer look!
Under the hood, the latest BMW Concept X5 eDrive is powered by a twin-turbocharged four-cylinder petrol engine delivering 245 hp. This internal combustion engine is then mated to a 95 hp electric motor developed in house. This electric motor gets its power from a lithium-ion battery and BMW claims that the Concept X5 eDrive can travel up to 30 km in electric only mode.
From a visual standpoint, the refined Concept X5 eDrive is identical to the original. Consequently, it features the same kidney grille, Silverflake metallic paint finish, and the same BMW i Blue accents throughout. Additionally, the car rolls on a set of lightweight alloy 21-inch wheels.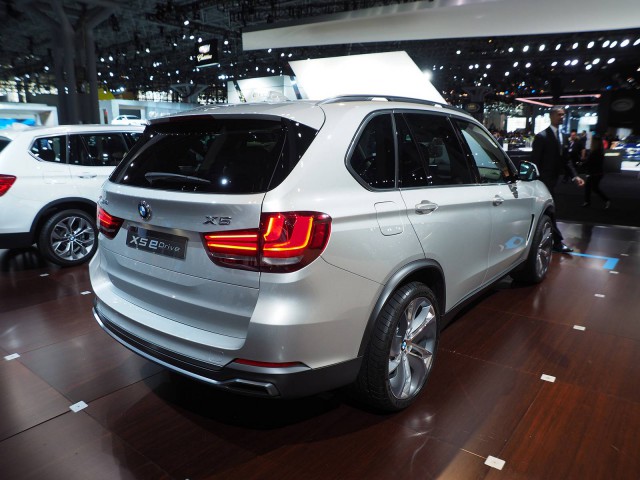 In the cabin, the blue accents continue and are nicely offset by the exclusive Ivory white leather across the seats, door trim panels and dashboard.
As with all hybrid production cars, the BMW X5 Concept eDrive can be charged from any domestic power outlet. The battery can be found mounted under the boot floor. As it stands, BMW claims the Concept eDrive produces under 90g/km of CO2 and by the time such a powertrain goes into production, it's hoped that figure will be closer to 50g/km. Sources state a production ready system is still two years away and is expected to arrive in time for the 2016 BMW 5-Series.
For more about the new BMW X5 Concept eDrive, check out our earlier article. For more from the New York Auto Show 2014, check out our dedicated new channel.