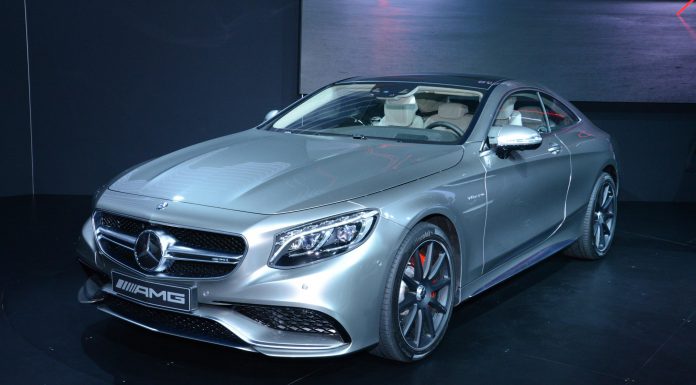 The Mercedes-Benz S 63 AMG 4MATIC Coupe has finally touched down at the 2014 New York Motor Show and it certainly has presence!
The long-awaited 2015 Mercedes-Benz S 63 AMG Coupe has just made its worldwide public debut at the New York Auto Show 2014. As the current range-topping variant of the sexy S-Class Coupe, the new car borrows many of its technologies with the sedan variant and will go on sale later this year. The new Mercedes-Benz S 63 AMG Coupe is only available with the 4Matic all-wheel drive systems in the U.S.
Replacing the CL63 AMG, the new Mercedes-Benz S 63 AMG Coupe is powered by a potent 5.5-liter twin-turbocharged V8 engine delivering 577 hp at 5,500 rpm as well as a brutal 664 lb-ft of torque at a low 2,240 rpm. To put this into comparison, this is a 40 hp increase over the CL63 AMG. The massive engine is then mated to a seven-speed Speedshift automatic transmission. Interestingly, As for the all-wheel drive version, 33 per cent of the power is sent to the front axle with the remaining 67 per cent going to the rear wheels.
Despite its hefty weight of 1,995 kg, Mercedes-Benz claims that the S 63 AMG Coupe can hit 100 km/h from a standstill in a mere 3.9 seconds with the all-wheel drive system and reach the same mark as a RWD in 4.3 seconds. Both have an electronically limited top speed of 300 km/h. Either way, the power is transmitted to the road through tyres measuring 255/40R 20 at the front and 285/35R 20 at the rear.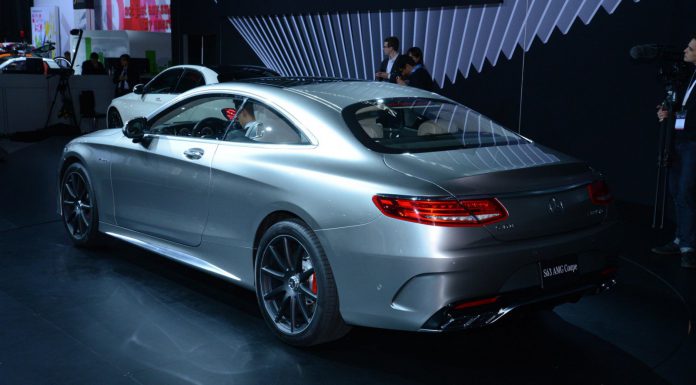 The Speedshift transmission offers three different driving modes to choose from: C (Controlled Efficiency), S (Sport) and M (Manual). A stop/start feature comes standard on the S 63 AMG . Helping to bring the new S 63 AMG Coupe to a stop are carbon ceramic AMG brakes as standard. For More news from the New York International Auto Show 2014, follow this link.