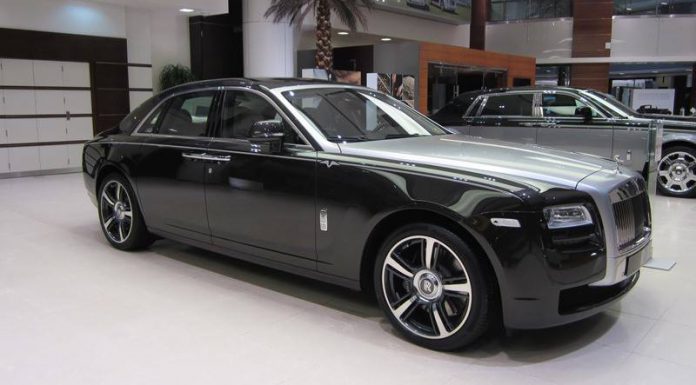 Rolls-Royce Motor Cars Abu Dhabi has sent us pictures of this stunning Rolls-Royce Ghost V-Specification currently up for sale and on display in its showroom.
The Rolls-Royce Ghost V-Specification is a rare, limited-run version of the standard Ghost available for order between January and June of this year. The V-Specification sees the addition of different 21-inch aluminium alloy wheels and special 'V' badging engraved into the treadplates and armrests. More importantly, the V-Specification ramps up power on the Ghost's 570 horsepower 6.6-liter twin turbocharged V12 engine by 31 ponies, bringing the total output to 601 horsepower.
This particular car is painted in a Graphite black body color on a unique Seashell white and Consort Red two-tone interior. Rolls-Royce Motor Cars Abu Dhabi hasn't put a price tag on it yet, but don't expect it to be too far off the Ghost V-Specification's MSRP of 330,820 EUR. That's a good deal more than a standard Ghost, but as you may know, exclusivity doesn't come cheap.