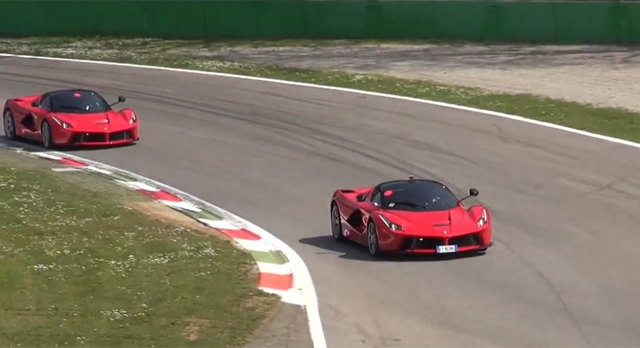 At the first round of the Ferrari Challenge for 2014, Ferrari invited some of the very lucky LaFerrari owners to hit the legendary Monza circuit and in total, three of the Italian manufacturer's hybrid hypercars hit the infamous circuit for some high speed driving.
[youtube]https://www.youtube.com/watch?v=2XsJTKSeWEw#t=117[/youtube]
As you could imagine, at full throttle, the LaFerrari sounds truly exceptional even though its exhaust note was being overshadowed by some of the dedicated Ferrari racing cars!
Journos have yet to drive the LaFerrari so it is difficult to say how it compares to the Porsche 918 Spyder and McLaren P1. On paper, it promises to be the fastest of the three with its V12 engine and HY-KERS system delivering a total of 963 hp!