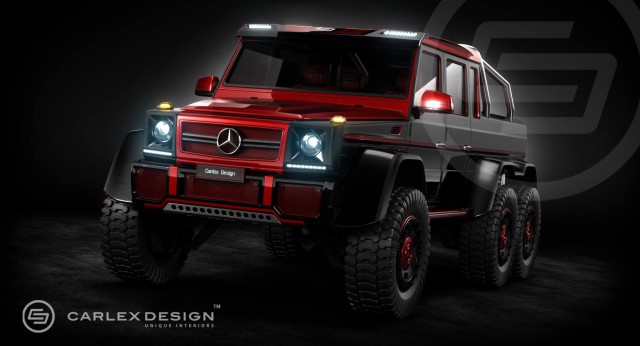 Carlex Design released a set of renders for the Mercedes-Benz G 63 AMG 6×6 recently. The G 63 AMG 6×6 is hot property at the moment. Brabus have a virtual monopoly on the aftermarket tuning market at the moment although this Carlex Design render and some interest from Russian niche tuner Dartz leads us to think we might see more in the future!
The exterior design adds some dark red and black elements to the bodywork. The bonnet adds a rent colour strip down the middle of the bonnet and across the centre line of the side. The wheels also receive red accents.
Inside, the Carlex Design modifications really become obvious. The seats get a red pin stripe design with accenting white stitching. Upper dash coverings are black leather whereas the dial surrounds are gold.