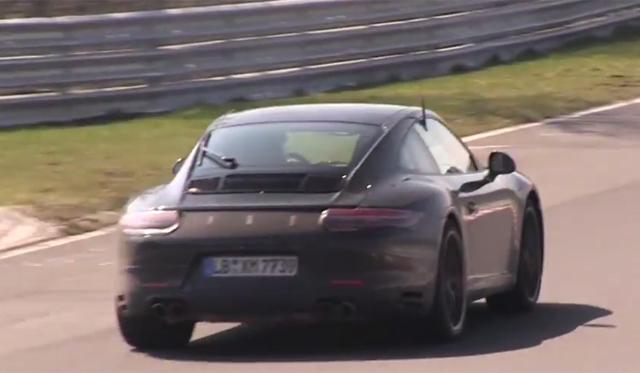 An interesting Porsche 911 prototype has just been spied testing on the Nurburgring. What is interesting about this particular prototype is the fact that it isn't entirely clear what model we are looking at here.
On the surface, it is definitely a midlife facelifted model of the 991-generation 911 and features the body of the 911 Carrera S. However, according to the poster, what makes this prototype noteworthy is the powerplant fitted at the back of the car.
[youtube]http://youtu.be/poAf3Uu56vs[/youtube]
It is suggested that this could be a very early prototype of the turbocharged flat-four cylinder engine recently confirmed for use for the next-generation Porsche Cayman and Porsche Boxster. However, based on the engine note, we'd be inclined to suggest that may not be accurate. First and foremost, all recent turbocharged 911 models have featured air intakes above the rear wheel arches and this prototype doesn't feature them.
Additionally, no turbo whistle can be heard under full throttle and overall, the car sounds quite similar to the current Carrera S. When you consider the difference between how muted the 911 Turbo and Turbo S sound when compared to the Carrera S, we'd expect the difference between a turbocharged flat-four and the Carrera S's naturally aspirated 3.8-liter six-cylinder engine being even more defined.