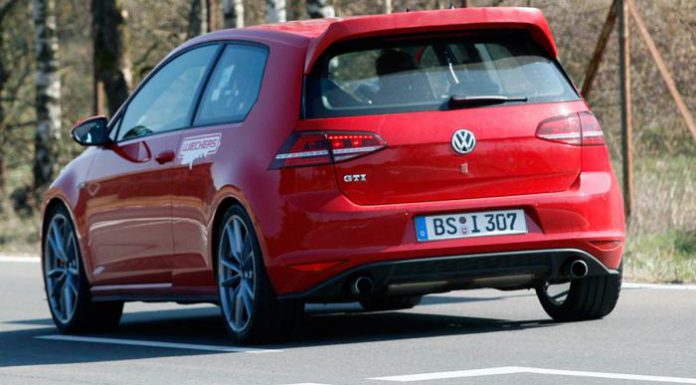 New spyshots have emerged of a souped-up Volkswagen Golf GTI undergoing early testing. Interestingly, this single prototype spotted could in fact by a modified GTI from Wiechers Sport, a German racing team but there are believable suggestions that it could also be the rumoured Volkswagen Golf R Evo.
This prototype was spotted testing alongside two other VW vehicles and features a host of changes differentiating it from both the Golf GTI and Golf R. Most importantly is the fact that this prototype has been fitted with a prominent roll cage in the rear along with a massive roof-mounted ducktail like rear spoiler. The important point about the fitment of a roll cage is that early suggestions about the Golf R Evo indicated this could act as one of the car's weight saving measures in place of the rear seats.
Furthermore, this prototype has been fitted with the seats from the VW Golf R as well as lowered suspension.
Early reports about the Golf R Evo also suggest it could receive a complete carbon fiber roof also reducing its centre of gravity as well as a host of other bodywork made from the lightweight material. A weight reduction of around 100 kg seems very plausible and if that's achieved, the Golf R Evo will weigh around the same as the less powerful Golf GTI.
If this is indeed the Volkswagen Golf R Evo, we could see it at next month's Beijing Motor Show 2014.