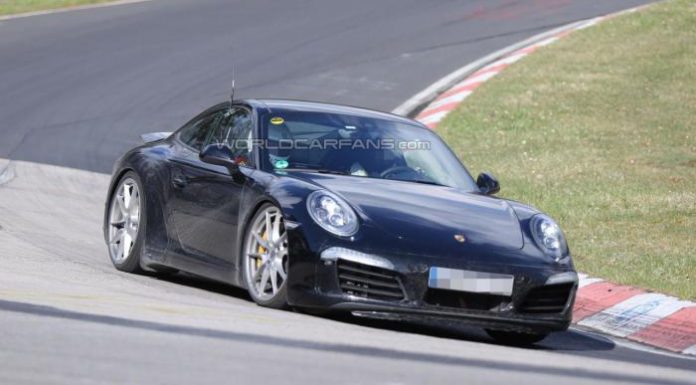 Development of the upcoming mid-life facelift for the Porsche 991-generation 911 is well underway and now a new prototype has been spotted hitting the Nurburgring for the first time.
If the differences between the 997 911 and 997.2 911 are anything to go by, we can expect to see slightly tweaked front and rear ends for the 991.2 along with modified taillights. Additionally, some, if not all, 991.2 911 models will receive a modified front air intake design recently spotted on a 911 GTS prototype. The horizontal slates can be open and closed to modify the aerodynamics of the German sports car.
Based on recent spyshots, it is very possible that the 911 GTS could be the first model to feature the updated styling and aerodynamics. Following on from it, the visual changes will funnel across the rest of the range from the entry level 911 all the way up to the range-topping Porsche 911 Turbo S.
Additionally, the mid-life facelifted Porsche 911 models are likely to receive some mechanical tweaks also to deliver slightly more power while also improving efficiency and fuel consumption.
It is probable that the facelifted 991 911 will be introduced sometime next year. It will then be produced for a few years before the next-generation 911 inevitably launches.
[Via World Car Fans]