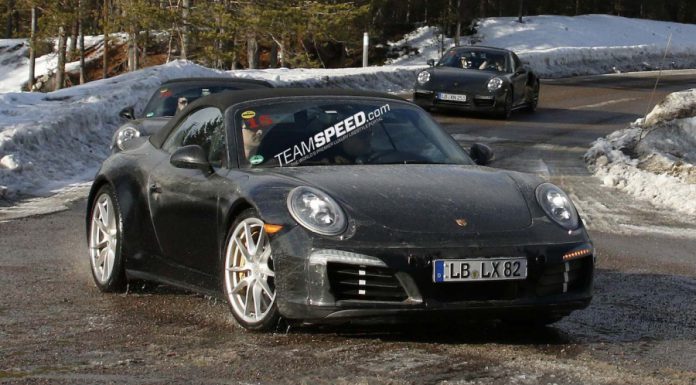 The latest upcoming Porsche 911 variant has been spied testing in the snow this time in the form of the impending Porsche 911 GTS Cabriolet. Designed to fit between the Carrera S and 911 Turbo Cabriolets, the GTS promises to be a perfect all-round, drop-top sports car.
Under the hood, the new Porsche 911 GTS Cabriolet will be powered by the same 3.8-liter flat-six cylinder engine currently used by the latest 991-generation 911 GT3. In its latest guise when fitted in the GT3, this powerplant produces 475 hp and revs to an insanely high 9,000 rpm!
The prototype you see pictured was joined by a selection of other 911 test cars and interestingly features dual exhaust pipes in the centre of the rear-end. It is unclear if this setup will make it to production but if it did, you wouldn't hear any complaints from us!
Another interesting point about this prototype is that the front air intakes feature slats which can open and close. The full purpose of these movable slats won't be fully known until the car is revealed but they will inevitably perform some aerodynamic purpose!
It currently remains unclear just when we can expect to see the Porsche 911 GTS Cabriolet revealed and ready to run. However, a debut next year is very likely.
[Via Teamspeed]