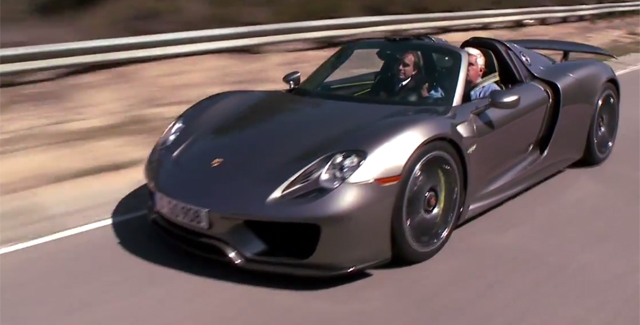 With deliveries of the incredible 2015 Porsche 918 Spyder just commencing, Jay Leno recently had the exclusive chance to get behind one of the very first production-spec 918s in the latest episode of Jay Leno's Garage!
[youtube]https://www.youtube.com/watch?v=eaOfgevPphk[/youtube]
As we're sure you know, Leno recently had his stunning Volcano Yellow McLaren P1 delivered and the 918 Spyder is just about as impressive. It comes fitted with a mid-mounted 4.6-litre V8 engine producing 608 hp independently – the highest specific power of any naturally aspirated Porsche engine. The V8 is then supplemented by a further two electric motors mounted on each axle.
The electric motors can either drive the wheels independently or work together with the engine to boost performance. Each motor produces enough power to boost the total figure of 887 hp. A seven-speed Porsche Doppelkupplung (PDK) controls power delivery to the rear wheels.
The 918 Spyder has been greatly influenced by its affiliations with motorsport. A number of the developments to the Porsche race car for the 24 Hours of Le Mans 2014 were used in the 918 Spyder – and vice versa. It features a carbon fibre monocoque and a multi-link chassis. The chassis is aided by Porsche Active Suspension Management (PASM) adaptive shock-absorber system and rear-axle steering.
The Porsche 918 Spyder gets five operating modes, which can be activated via a map switch in the steering wheel, just like in race cars.