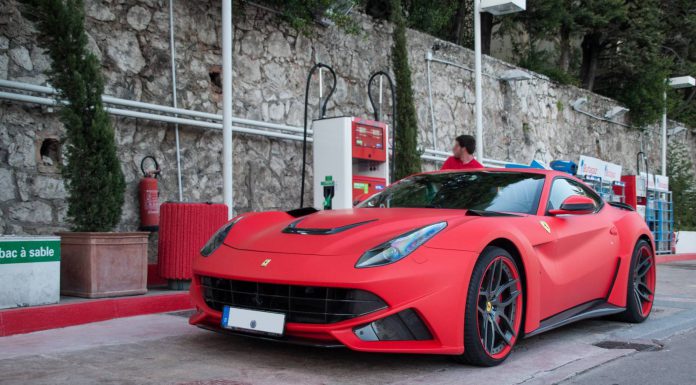 A stunning matte red Novitec Rosso N-Largo Ferrari F12 Berlinetta was recently spotted in Monaco.
All the components added to the Ferrari F12 Berlinetta are manufactured from ultra-light carbon fiber. Overall, the package increases the width at the rear axle by 11 cm thanks to an aggressive set of fender flares. At the front, a similar set of flares have been fitted with a horizontal air vent to cool the ceramic brakes. Rear rocker panels are available in a matt or high-gloss clear coated carbon fibre.
At the very front, Novitec Rosso fit a replacement front bumper with a different duct layout. Testing in a wind tunnel proves that the new component reduces negative lift and further improves handling stability. The hood receives the N-Largo air scoops on the left and right-hand side as well as with the central air deflection insert. A rear spoiler sits atop a five piece diffuser at the rear of the car. Carbon fibre exterior mirrors finish off the look.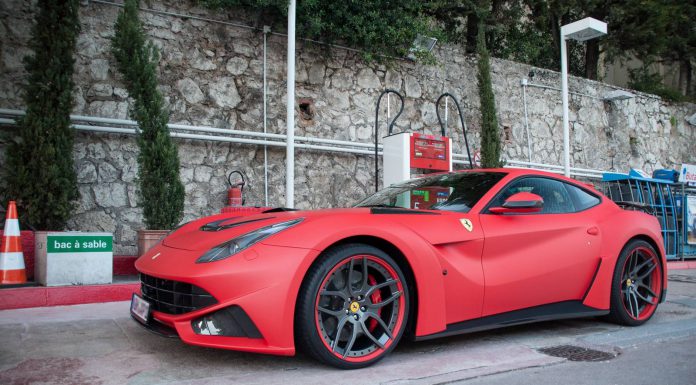 The wheels benefit from tailor-made three-piece Novitec Rosso NF5 NL forged wheels combining 21-inch rims at the front with 22-inch rims at the rear. To create a stanced feeling, Novitec Rosso lower the suspension by up to 40 mm with the help of a special set of sports springs. An optional lift system is available for those that require greater ground clearance for the parking garage or speed bumps.