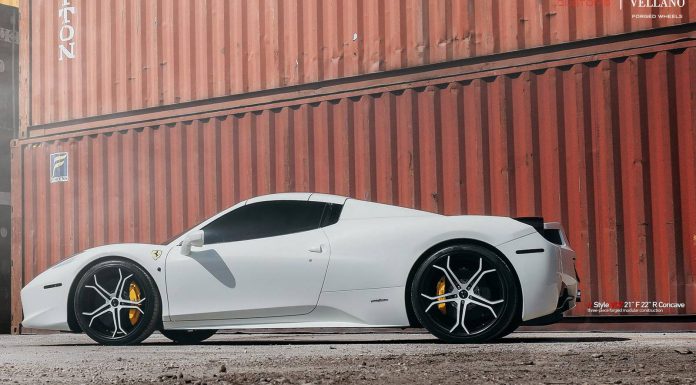 The Ferrari 458 Spider is a precision tool, a scalpel that nicks and severs, a ballerinas pump. The Spider has an added dimension of pleasure with the wind rushing over head and the chance to hear the Ferrari tinkered exhaust in all its glory.
The car looks fantastic with its roof tucked away and to accentuate the cars sublime looks this white example has had its OEM wheels replaced by a set of Vellano VCZ 21″ Front and 22″ Rear Concave Three Piece Forged Wheels. These wheels look fantastic against the sleek lines and curves of the Ferrari.
The Ferrari 458 Spider features the same 4.5-liter V8 engine as the standard Ferrari 458 Italia and therefore produces an equal 570 hp. Despite weighing slightly more than the Ferrari 458 Italian coupe, the Spider will still hit 100 km/h in 3.4 seconds and has a lower top speed of 319 km/h.