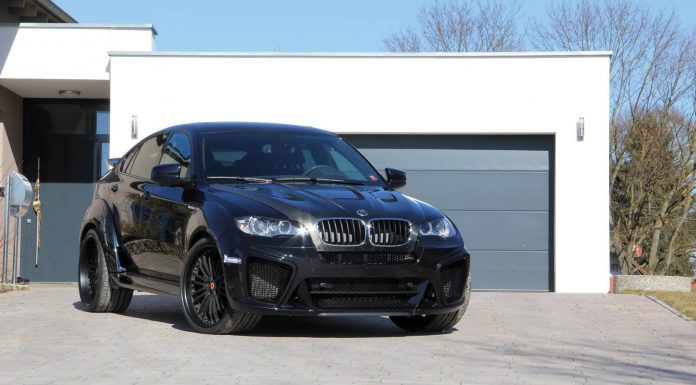 Traditionally, nothing is left half-done with G-Power. BMW's X6 model that is already pretty impressive from the onset, but after a small body kit upgrade, the X6 M Typhoon gives off visual imagery of power.
The new aerodynamic parts, which were then manufactured in OEM quality, were developed using 3D-modeling technology. The hallmarks of this striking body kit is the muscular mudguard, widening the stance of the menacing SUV, through which the X6 gains width by seven centimeters. The optical connection of the front and rear axle is created by stylish side skirts.
The front is downright brutal. The front apron of the Typhoon provides an aggressive visual appearance and also has aerodynamic advantages. The same applies to the projecting rear apron through which the gigantic 114 millimeter end-pipes of the centrally-installed exhaust system protrude.
Another significant characteristic of this bodywork construction kit is the Venturi engine hood made of carbon fiber. This not only looks quite impressive, but also fulfills a purpose with its numerous air inlets and outlets. Together with the air inlets in the front spoiler, the dynamic venting technology ensures a systematic cooling of the engine space in such a way that the thermal pressure on the machine is always within a positive range.
The exhaust system is completely made of stainless steel enabling a clear reduction of the exhaust gas back pressure. Together with the new electronic coordination, the performance rose to a considerable 725 hp. Even more brutal is the torque of 890 Nm at just 1,500 rpm!
The ceramic sport braking system of G-Power effectively takes the wind off the sail of the powerful BMW. If necessary, the 6-piston brake calipers on the front axle will bite firmly into the almost 40-centimeter wide ceramic disks in such a way that the impact can be compared to a head-on collision!
The Typhoon sports special three-piece Silverstone RS forged wheels of G-Power measures 11×23 inches on the front axle and 12×23 inch wheels on the rear.