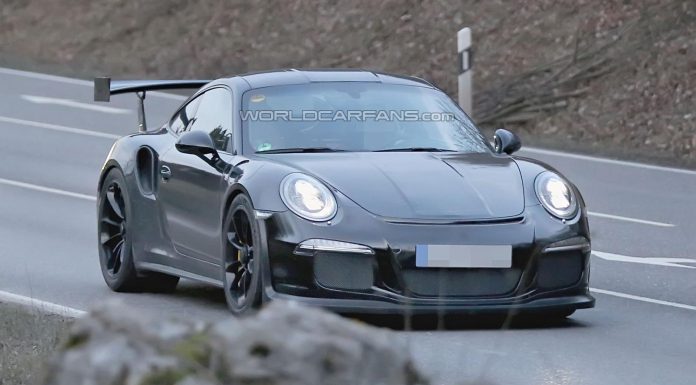 Not too long ago, the upcoming 2015 Porsche 911 GT3 RS was spied testing with a host of new aerodynamic parts to distinguish it from the standard 911 GT3. Unfortunately, Porsche CEO Matthias Muller has announced that the delay of the highly-anticipated 991-generation GT3 RS could be delayed following the ongoing recall of the standard GT3.
Initially pinned for a debut sometime this summer, Muller stressed that the launch could be pushed back to ensure that the standard 911 GT3 is back on the roads with its new engine following a couple of fires in Europe.
However, based on what we know about the upcoming 2015 Porsche 911 GT3 RS we can certainly wait a little bit longer. Official engine details about it remain somewhat sketchy, but it is highly probable that it will receive a turbocharged engine for the first time ever based on the fact that a recent prototype spotted testing featured similar air inlets on the rear wheel arches to the 911 Turbo and 911 Turbo S.
If this is true, then we can reasonably expect the new 911 GT3 RS to deliver well in excess of 500 hp! There remains quite a bit of conjecture if the car will be available with a six-speed manual transmission for the real enthusiasts or if it'll be solely available with Porsche's admittedly stunning PDK system.
[Via World Car Fans]