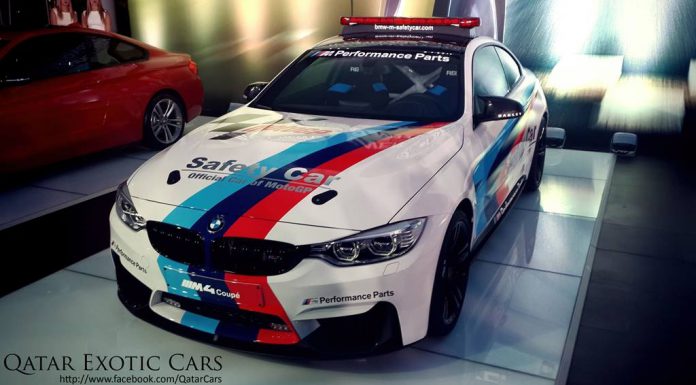 The official safety car for the upcoming 2014 MotoGP season has been officially confirmed as a specially equipped BMW M4 Coupe. Last year, the motorcycle racing series used a BMW M6 Gran Coupe as the safety car but considering the M4 is the latest and arguably most impressive new M-powered BMW, it comes as no surprise that it's replacing the M6 in leading the MotoGP field. As you can see from the video below, it also sounds tenacious!
[youtube]http://youtu.be/6TtzJ0AyOOM[/youtube]
Under the hood, the BMW M4 Safety Car remains identical to the production model. That means it features a brand new 3.0 litre twin-turbocharged six-cylinder engine which revs to 7,600 rpm, producing an impressive 431 hp between 5,390 rpm and 7,000 rpm and 406 lb-ft of torque from as low as 1,800 rpm to 5,390 rpm. That torque figure is an improvement over the outgoing BMW E92 M3 of 40 per cent.