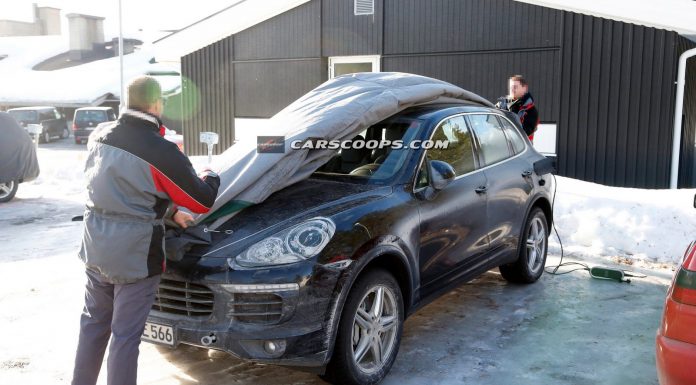 The facelifted 2015 Porsche Cayenne has just been spied testing under minimal camouflage and interestingly, in Plug-in Hybrid specification for the very first time. Engineers were seen plugging in the car to an electrical socket.
Set to share many of its technologies with the new Porsche Panamera S Hybrid E, the Porsche Cayenne Plug-in Hybrid will become one of the very first hybrids in the luxury SUV market. Unfortunately, technical details about the Cayenne Plug-in Hybrid aren't known.
However, this facelifted Cayenne can be differentiated from the current car thanks to a revised grille, air intakes, headlights (even though these appear to be stickers) while at the rear, new taillights more closely resembling those of the Macan will be utilised.
As you may recall, we recently tested the Porsche Panamera S E-Hybrid and found it to be quite a revolution. It features a 3.0-liter V6 supercharged engine joined by a synchronous electric motor. All up, the Panamera S E-Hybrid delivers a total of 416 hp mated to an eight speed Tiptronic S transmission. As a result, it can sprint to 100 km/h in 5.5 seconds and hit a top speed of 270 km/h all while sipping just 3.1-liters per 100 km on an average cycle.
We expect to see a similar engine setup for the Cayenne Hybrid and will likely launch sometime next year.
[Via Carscoops]