We've featured the Stinger package by TopCar available for the Porsche 991-generation 911 many times here in GTspirit. However, the following Porsche 911 Carrera Cabriolet to receive the package definitely has to be the most impressive by quite a considerable margin.
This particular Porsche 911 Carrera Cabriolet is already unique with it finished in bright red, a rare colour for Porsches. At the front, the Stinger kit adds a new bumper with remodelled air intakes along with a bare carbon fiber splitter. Additionally, this particular Stinger features a bare carbon fiber bonnet adding a really unique flare to this 911.
At the side, this Porsche 911 Carrera Cabriolet Stinger by TopCar includes more prominent skirts while at the rear you can find a massive carbon fiber wing, diffuser and modified bumper. Completing the visual changes are a set of custom ADV.1 wheels!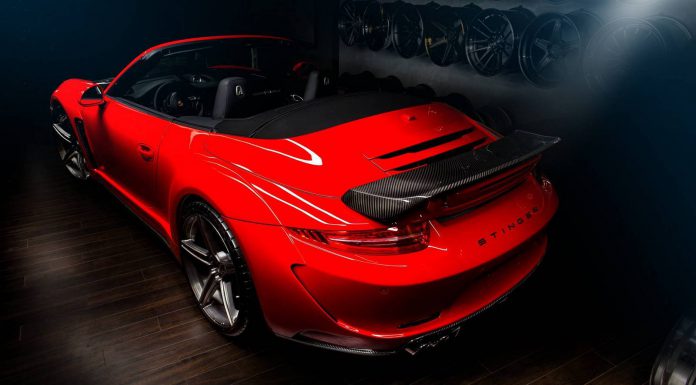 The aerokit is currently available on the 991 Carrera, Carrera S, Carrera 4, Carrera 4S and their corresponding cabriolet versions. For those interested, the kit starts at 14,280 euro. Interestingly, this is the first Stinger to arrive in the United States.