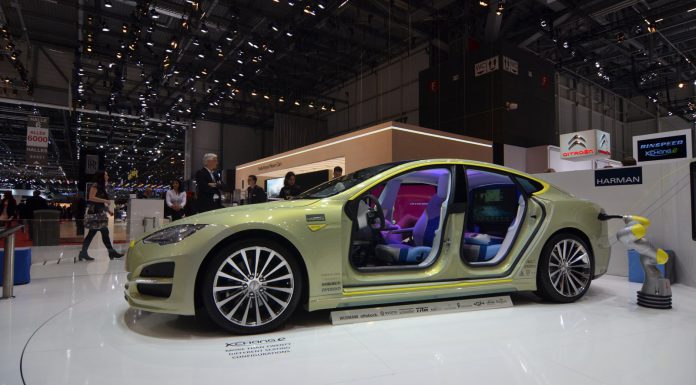 One of the key attractions at the ongoing Geneva Motor Show 2014 is this, the futuristic Rinspeed XchangeE Autonomous Prototype. Based around the Tesla Model S but featuring a seemingly endless array of modifications, the XchangeE really could be a glimpse into the future of autonomous motoring. Of course, we just had to go and see more!
As soon as you glance at the outlandish bodywork, it becomes apparent just how serious a customisation the Rinspeed XchangeE Autonomous Prototype is compared to the standard Model S. It features a new front bumper with horizontal LED daytime running lights, new side skirts, a much more aggressive rear bumper and of course, a light olive green paintjob. This colour scheme is joined by ghastly light yellow accents including the door handles, wing mirrors and window surrounds. Completing the exterior changes are bright, 20-inch wheels.
The most significant and most impressive features however, are found in the cabin. Because the XchangeE Autonomous Prototype is just that, an autonomous car capable of driving itself, Rinspeed turned its focus to providing the very best luxurious occupants could ever wish for to pass the time.
First off, the cabin includes a steering wheel which can be moved horizontally across the dashboard and placed in the centre to provide both the 'driver' and passenger clear views of their own touch-screens pads and an LCD display stretching across the dash. If occupants get bored facing in the way they're travelling, the front two seats can swivel around and face a massive flat-screen TV in the back.

If you want to read more about the Rinspeed XchangeE Autonomous Prototype, check out our earlier article. Let us know what you think of the car in the comments box below. For full Geneva Motor Show 2014 coverage, check out our dedicated channel!