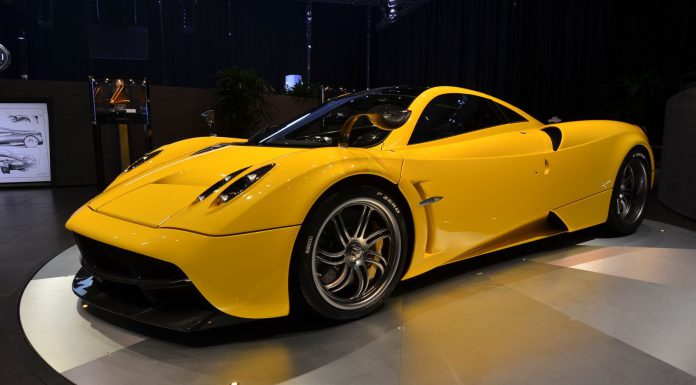 Pagani have a yellow Pagani Huayra showing here at the Geneva Motor Show 2014. This China-bound customer car features the same 6.0-liter twin-turbocharged AMG V12 engine as other Pagani Huayra's. This powerplant delivers an impressive 720 hp with all that power being sent to the rear wheels. While you may think such a powerful car wouldn't have any traction, the Huayra is an extremely easy car to drive and when driven at full throttle, hits 100 km/h in around 3 seconds flat!
Other than this yellow Pagani Huayra, there is the final edition of the Pagani Zonda Revolucion on display. Limited to only 5 pieces the Pagani Zonda Revolucion is the ultimate edition of the non-street legal Zonda R. It is among the most exclusive and expensive track toys you can buy with a price tag of 2.2 million Euro excluding taxes. The last Zonda Revolucion on display in Geneva is heading over to Japan after the show to be delivered to its owner.
For our extensive opinion on the Pagani Huayra, take a look at our road test. Follow all the action at the Geneva Motor Show 2014 by clicking through to our dedicated news channel!