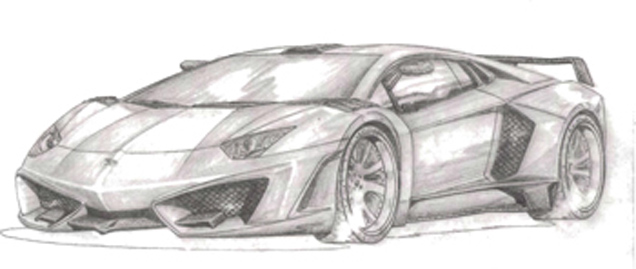 At the upcoming Geneva Motor Show 2014, FAB Design's display is set to be one of the real highlights. It has been confirmed that their tuning package for the Lamborghini Aventador will have its world debut at the Swiss held auto show and dubbed the Spidron.
We first learnt about the Lamborghini Aventador by FAB Design back in early August. At the time, just a single sketch of the aggressive styling kit had been released and as it stands, that is the only image we have to go off.
While it doesn't show much, this sketch does show that FAB Design will be modifying almost every body panel of the Aventador. At the front, we can see a more angled bumper with redesigned air intakes and splitter. There are also new air intakes for the brakes, as well as a subtle roof scoop. Also, the wing mirrors will be repositioned further up the A-pillars similar to the Pagani Zonda C12S and new side skirts will be fitted. Finally, a massive rear wing will be installed and at the back, we expect to see a redesigned bumper, rear diffuser and possibly, a modified quad exhaust outlet design.

Completing the visual changes will be a new set of wheels and the entire bodykit is expected to be constructed from carbon fiber.