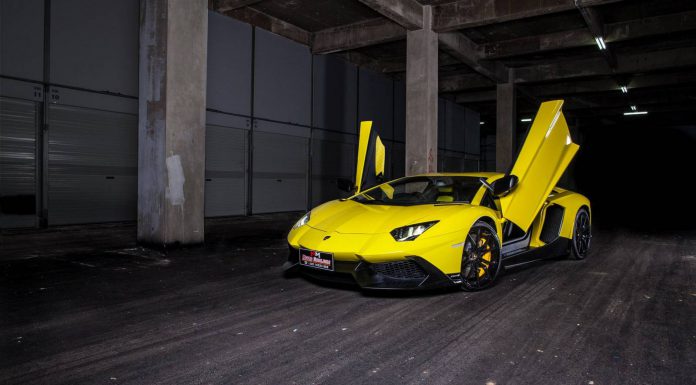 The Lamborghini Aventador is a brilliant beast that turned the supercar game on its head. The car has been compared closely with the Ferrari 458 Italia and McLaren 12C, high-praise indeed. The car looks like nothing else on the market and oozes aggression and menace that is unparalleled at present.
To celebrate its 50th anniversary, Lamborghini created a very special Aventador called the LP720-4 50° Anniversario. The LP720 features the same 6.5-liter V12 as the standard LP700 but it has been tweaked by the Lamborghini engineers have managed to extract an astronomical 720hp from it. 0-100 km/h is over in the same 2.9 seconds as the LP700 and will carry on howling and pulling to a vision blurring 350km/h! The looks and aggression of the Aventador have been taken to another level with the LP720.
Along with its exclusive paint finish, Giallo Maggio, the new anniversary edition also received an improved aero kit. The car receives enlarged air intakes and splitters an enlarged rear diffuser and extensive meshwork helping the engine to breath. These changes have all been finished in matte black, adding to the menacing look of the car. Lamborghini claim that all of the tweaks have increased aerodynamic efficiency by 50 percent when compared to the LP700. Photographer Fido Klik had the rare opportunity of shooting one of the rare LP720's behind closed doors where the car looked magnificent.