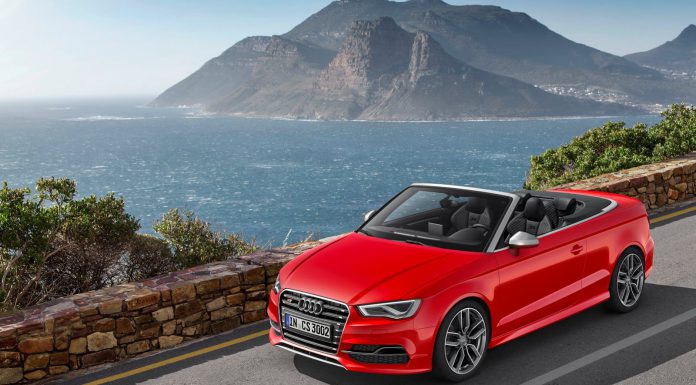 In the lead up to the Geneva Motor Show 2014, the 2015 Audi S3 Cabriolet has officially been revealed. Its debut follows on from the facelifted S3 Saloon from last year which we were lucky enough to road test around Monaco!
Under the hood, the new Audi S3 Cabriolet remains identical to the four-door S3. That means it features a four-cylinder 2.0 TFSI engine with turbocharging and direct injection. It produces 300 hp which is available between 5,500 and 6,200 rpm and delivers 380 Nm of torque between 1,800 and 5,500 rpm.
The upgraded turbocharger helps to contribute to this power; it develops up to 1.2 bar of charge pressure and can withstand exhaust temperatures of up to 1,000 degrees Celsius. The electronically controlled wastegate valve operates very quickly and precisely. At part load, it reduces the back pressure and thus the exhaust pressure resulting in reduced charge-cycles.
While the engine remains the same as the saloon, the Audi S3 Cabriolet is not available with a 6-speed manual transmission like its sibling and instead only offered with the 6-speed dual-clutch S tronic 'box from Audi. Either way, the aforementioned 300 hp is sent directly to all four wheels meaning the car performs similarly to the S3 Saloon in a straight line. While Audi has yet to divulge such details, we predict a sprint to 100 km/h in just under 5 seconds and an electronically limited top speed of 250 km/h.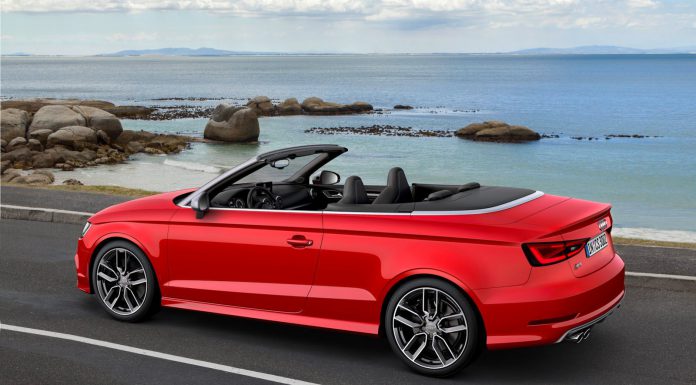 Further differentiating the 2015 Audi S3 Cabriolet from the standard A3 Cabrio are new 18-inch alloy wheels with tyres measuring 225/40 R18 at all four corners. Additionally, the S3 Cabrio includes a much more aggressive look thanks to new bumpers front and rear as well as quad exhaust pipes. It also includes upgraded suspension and braking systems.
Dealer deliveries of the 2015 Audi S3 Cabriolet are expected to begin in the middle of the year in Germany before being delivered across the globe later in the year.