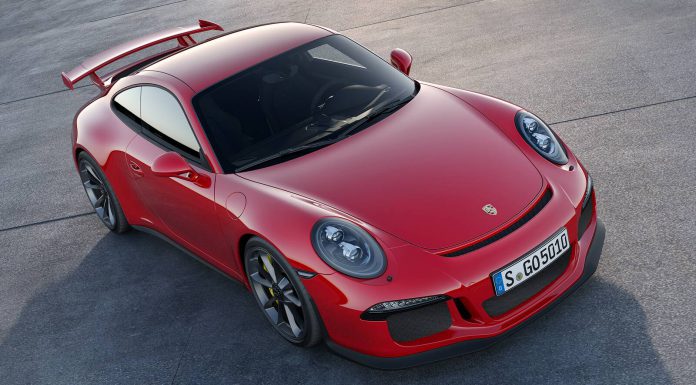 Recently, additional details about the upcoming 2015 Porsche 911 GT3 RS leaked online thanks to Auto Express. These reports suggested that just like the most recent 911 GT3, the RS model would not receive a manual transmission. However, Car and Driver claims to have been told that the German automaker is actually considering make a stick shift available.
The PDK transmission from the latest 991-generation 911 GT3 has already proven itself to be one of the world's greatest transmissions and is vital to fully explore the full performance potential offered by the brand new 3.8-liter flat-six cylinder engine. However, the last generation Porsche 911 GT3 RS was more driver focused than the standard GT3, and Porsche could please many enthusiasts if it did offer the next GT3 RS with a manual transmission.
As for the previously released details, they suggesting testing of the car is already underway with Porsche driver Walter Rohrl confirming that the car has already begun testing at the infamous Nurburgring. With a host of new aerodynamic components, downforce of the new Porsche 911 GT3 RS could be up be around 50 per cent when compared to the 'regular' 991 GT3.
It is believed that this additional downforce will be achieved thanks to a completely updated aero kit expected to draw on inspiration from the previous-generation 911 GT3 RS 4.0. As a result, it could feature similar carbon fiber canards as the RS 4.0. Understandably, the new Porsche 911 GT3 RS will have a wider track than the normal GT3 and will consequently have a wider stance.
Elsewhere, Porsche will save weight wherever it can such as through the fitment of lightweight, thinner glass, a stripped out interior and featherweight body panels. Just like the 991 GT3, the new RS will only be available with a PDK transmission.
Under the hood, the latest Porsche 911 GT3 RS will see a slight power increase from the standard car pushing the total figure towards the 500 hp mark. It will also feature different gear rations and should be able to sprint to 100 km/h in around 3.5 seconds. Understandably, top speed will be slightly decreased due to the increase downforce.
[Via Car and Driver]