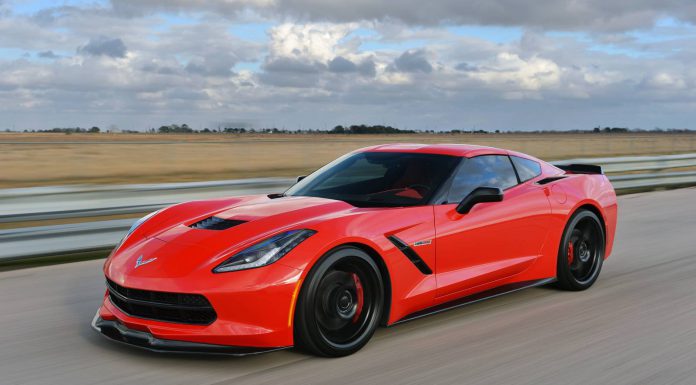 Hennessey Performance released details of their 2014 Hennessey HPE700 Twin Turbo Corvette Stingray today. The package builds upon the already released HPE500 and HPE600 packages.
As the name suggests, the 2014 Hennessey HPE700 Twin Turbo Corvette Stingray gets a ZR1 beating 708 bhp. This peak power figure is produced at 6,300 rpm. It is a twin-turbo conversion with twin ball bearing turbochargers, an upgraded fuel system, stainless steel inlet piping, a wastegate, a new air-to air intercooler and a complete stainless steel exhaust system.
In order to finish and refine the adjustments, Hennessey Performance have a proprietary Engine Management Calibration. Each car is dyno tuned and road testing in order to ensure the correct performance level and the quality of the build.
Each car also exterior badging, floor mats and carbon fibre door sills. Each car is also fitted with serial-numbered dash and engine plaques as well as a 1 year/12,000 mile limited warranty.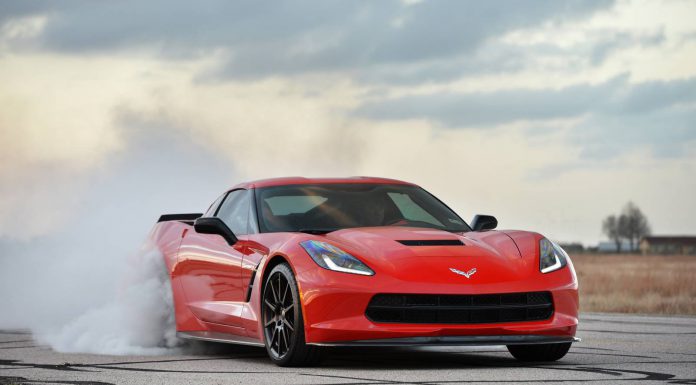 On top of the HPE700 package, optional upgrades can also be ordered including the Hennessey CarbonAero rear lip spoiler, side sills and front lip spoiler. Wheel options include Hennessey H10 Monoblock rims, Michelin Pilot Super Sport tyres and Brembo carbon ceramic brakes. Penske adjustable suspension is also available as well as custom interior leather and carbon fibre interior elements.
The 2014 Hennessey HPE700 Twin Turbo Corvette Stingray is available to order immediately from Hennessey Performance. If you want to read about the HPE500 and HPE600 packages, take a look at our earlier article!