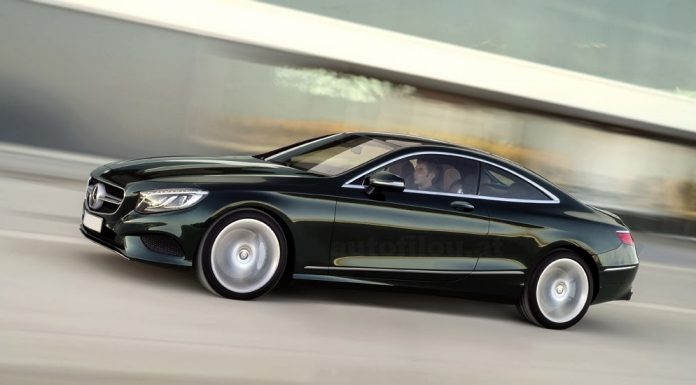 Just a couple of days ago, the first image of the 2015 Mercedes-Benz S-Class Coupe emerged online. Unfortunately, this first picture was simply a photograph of a slideshow presentation at a recent Daimler conference so we couldn't see the real proportions of the car. Now however, that same picture has leaked officially thanks to Autofilou and it looks far more sleek and impressive than the original image showed.
Because the original image was so out of proportion for a Mercedes-Benz S-Class, many though it could be the C-Class Coupe. However, the much longer proportions are evident in this image and we must say, the production spec car arguably looks even better than the concept car from the IAA Frankfurt Motor Show last year.
Mercedes-Benz S-Class Coupe Concept

Immediately, the similarities between the road-going S-Class Coupe and Concept are apparent. First off, it features a very similar front-end albeit flatter and less-pointed that the concept's while maintaining a nearly identical shape to the S-Class Coupe Concept. You'll also notice that the headlights combine the slimline profile of those from the original concept but feature more a more traditionally design and light pattern. At the rear, the thin, horizontal taillights of the concept are visible.
In terms of specifications, we can expect to see the same versions as the S-Class Sedan. These will include a Mercedes-Benz S500 Coupe powered by a twin-turbocharged 4.7-liter V8 engine producing 455 hp. An S550 variant will then join it. Additionally, there will be an S600 Coupe with a massive 530 hp 6.0-liter V12 engine while an S63 AMG and S65 AMG variants will also be available. The S63 will feature a 5.5-liter twin-turbo V8 with 585 hp while the S65 AMG Coupe will feature a potent 630 hp twin-turbocharged 6.0-liter V12!
Be sure to stay tuned for the official release of the 2015 Mercedes-Benz S-Class Coupe in the next few days before its debut at the Geneva Motor Show 2014!
[Via Autofilou]