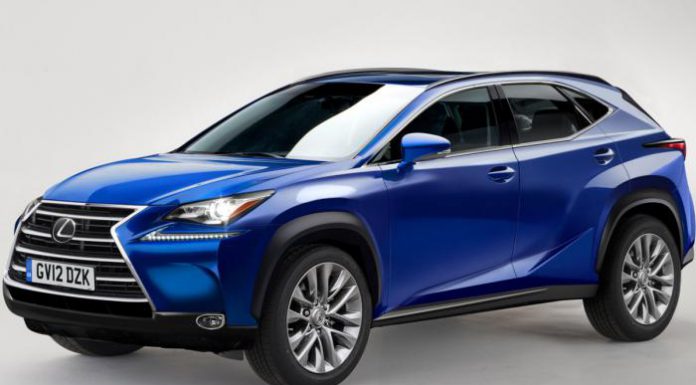 Following on from the recent leaked image of the production-spec Lexus LF-NX during a recent conference, additional details about the sharp new Lexus SUV have been revealed. First and foremost, it can be confirmed that the LF-NX SUV will drop the LF from its name and simply be known as the Lexus NX.
New reports suggest that the Lexus NX will arrive in the U.K. as early as October with the base model set to be priced at around 30,000 pounds. As a result, this price point will make the Lexus NX a real competitor to the Audi Q5 and BMW X3.
From the visual side of things, the road-going Lexus NX will be quite different than the concept car on which it is based. As the recent leaked image showed and as this exclusive rendering courtesy of AutoExpress displays, it will lose many of its most aggressive design features at the front end. In terms of the headlights, they will be similar in design to the new Lexus IS and RC Coupe as well as Lexus' now trademark spindle front grille.
From the side, it will retain the aggressive side sills and sharp rear wheel arch of the concept. As of yet, it cannot be confirmed how the Lexus NX SUV will look from the rear. As for the interior, it should be very similar to the Lexus IS.
The entry-level model at launch is set to be the Lexus NX 300h which will feature a 2.5-liter four-cylinder engine along with an electric motor to deliver a total of 178 hp. The internal combustion engine will be used to power the rear wheels while the electric motor will power the rear axle.
Further down the road, a Lexus NX200t F Sport will launch and is expected to feature a 2.0-liter turbocharged petrol four-cylinder engine delivering around 240 hp.
[Via Auto Express]