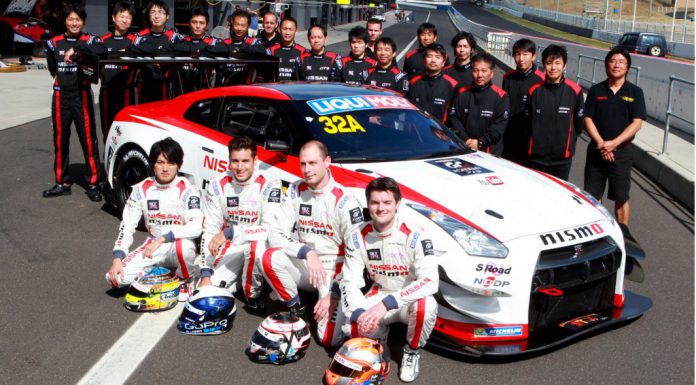 As part of this weekend's Bathurst 12 Hour endurance race around the infamous Mount Panorama in New South Wales, Australia, a 2014 Nissan GT-R Nismo GT3 racer has been confirmed as one of the contenders. What makes this entrant all the more important is the fact that this will mark the first time a factory entered Nissan GT-R has raced at Bathurst since 1992 when the Nissan Skyline R32 GT-R was dominating the field!
The Nissan Skyline R32 GT-R which previously raced at Mount Panorama was so successful in fact, that it was forced out of the field following drastic rule changes for touring car racing in Australia.
The 2014 Nissan GT-R Nismo GT3 will be piloted by Australian racing driver and V8 Supercar star Rick Kelly who will race alongside Alex Buncombe, Wolfgang Reip and Katsumasa Chiyo.
When compared to previous Nissan GT-R Nismo GT3 racers, the latest model features new camshaft timing, while much of the engine has been reinforced. Additionally, several modifications were made to enhance aerodynamics; canards were added to the front and the front fender louvers were enlarged. The positioning of the rear wing was also optimized.
[youtube]http://www.youtube.com/watch?v=h2Y3H8LSjAU[/youtube]
These changes improved aerodynamic balance between front and rear, increased downforce thus enhancing overall aerodynamic performance.
Recently, it was also confirmed that the McLaren 12 GT3 racer would compete in the same race.