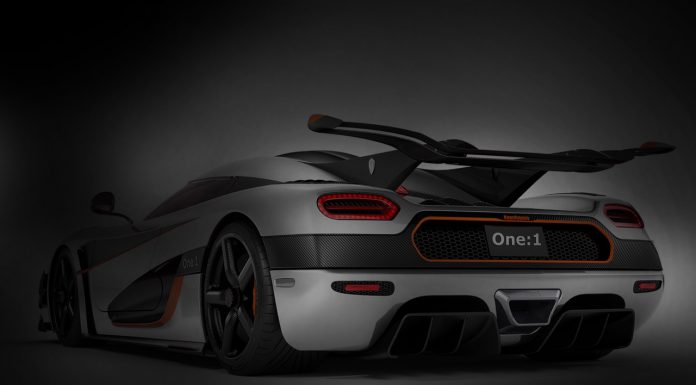 The first official Koenigsegg One:1 specs have been revealed. Unless you have been living under a rock for the past six months, you will be aware that Swedish hypercar manufacturer Koenigsegg is working on a new car will a perfect power to weight ratio. The Koenigsegg One:1 will be the first Ultracar!
Today we received a number of interesting statistics which help to explain why this new car will be so special. The first is confirmation that the power to weight ratio will be One:1. The Koenigsegg One:1 will have a kerb weight of just 1,340 kg. Power will be 1,340 hp giving it that all important One:1 ratio!
To explain the above, it is important to point out that kerb weight is of course the total weight of a vehicle with standard equipment, all necessary operating consumables (motor oil and coolant etc.), a full tank of fuel, and a 75 kg driver.
To keep such an extreme car on the road requires state of the art suspension and aerodynamic systems. We're told that both the suspension and aerodynamic systems will receive active elements which will adapt to the conditions. In total, the aerodynamic adjustments will generate a McLaren P1 rivalling 600 kg of downforce. Koenigsegg expect the One:1 to generate a massive 2G of lateral grip.
As the photo reveal, the aerodynamic enhancements will be extreme. Christian von Koenigsegg favours an evolutionary process with his cars so the Koenigsegg One:1 is certain to be an evolution of the tried and tested design! The photo shows a car fitted with a huge spoiler attacked to the rear window by two large mounts. The One:1 will also make extensive use of carbon fibre with wild front canards, a cut-away front brake vent and Koenigsegg's carbon fibre wheels.
It is believed that Koenigsegg engineers will aim for a 0-400 km/h time of just 20 seconds and world records in just about every measurable area of performance. The speculated stats that haven't yet been confirmed relate to the engine which we believe will remain a Koenigsegg engineered V8. We can't wait to see it at the Geneva Motor Show 2014 in less than a month!