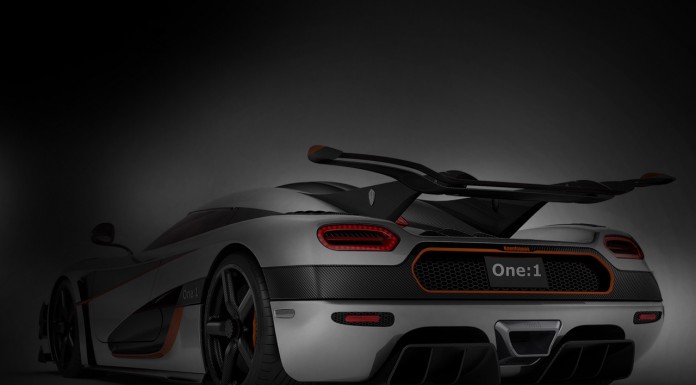 Following recent official confirmation that the Koenigsegg One:1 is set to debut at the upcoming Geneva Motor Show 2014, Koenigsegg has just released the first of its incredible world-beating ultracar!
Up until this point, we've only seen speculative renderings of the car. However, this is the first official image of the Koenigsegg One:1 we have and as we expected, it features some truly incredible changes when compared to the Koenigsegg Agera S and Agera R models the Swedish manufacturer is currently producing.
The most dramatic aerodynamic change visible in this rear three-quarter shot is the massive rear wing which isn't actually attached to the decklid of the car as usual and is instead supported by two massive fins stretching down from the roof. This massive rear wing will inevitably add incredible amounts of downforce and as speed increases, create quite a lot of drag. As a result, it will be interesting to see how Koenigsegg manages to reach the expected top speed in the region of 450 km/h!
The Koenigsegg One:1′s name is derived from its one-to-one weight and horsepower ratio with its 1340 hp V8 engine and the 1340 kg weight. Christian von Koenigsegg adds that the Koenigsegg One:1's weight of 1,400 kg will include all water, oil and fuels and according to Christian von Koenigsegg it even includes the weight an average sized driver in that figure. But even more impressive than the incredible power-to-weight ratio is the aerodynamic redesign and redevelopment of the Koenigsegg One:1 compared to the Koenigsegg Agera R.
In addition to a top speed in excess of 450 km/h, Koenigsegg One:1 promises to set new records for the 0-200km/h, the 0-300km/h and even 0-400km/h sprints. In terms of the sprint from 0-400km/h, Koenigsegg engineers believe it can achieved in around 20 seconds!