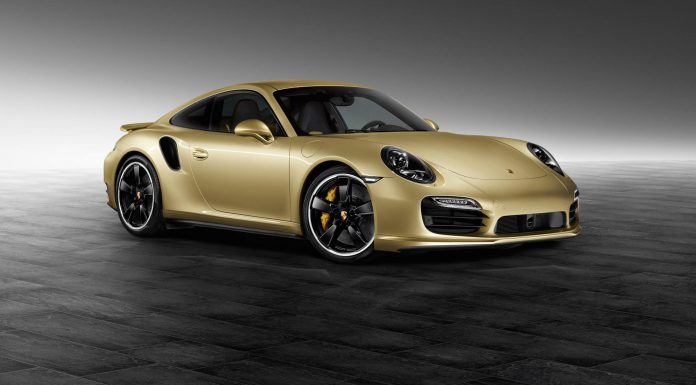 For most, the 2014 Porsche 911 Turbo is about as exclusive as a car can get. However, if you're looking to modify a 911 or any Porsche for that matter, then you turn to Porsche Exclusive. Now, Porsche's in-house customisation shop has released one of its most stunning jobs in recent years with the 2014 Porsche 911 Turbo by Porsche Exclusive.
This particular 2014 Porsche 911 Turbo has been finished in a stunning shade dubbed Lime Gold Metallic. This gold finish isn't overt nor in-your-face and consequently suits the sophistication of the new 911 Turbo to an absolute tee. Additionally, this Porsche 911 Turbo by Porsche Exclusive features completely clear taillights which also suit the paint scheme nicely.
Up front, you'll find blacked-out Bi-xenon headlights complete with the Porsche Dynamic Light System. Further visual changes on the outside include new privacy glazing as well as blacked-out 20-inch Sport Classic wheels with bright chrome outer lips.
This 2014 Porsche 911 Turbo by Porsche Exclusive has been outfitted with the carbon fiber interior package and features a carbon centre console as well as personalised and illuminated door sill guards. This unique interior also includes leather trim combining Agate Grey and Lime Gold to perfectly match the exterior. Finally, the cabin features Lime Gold stitching throughout.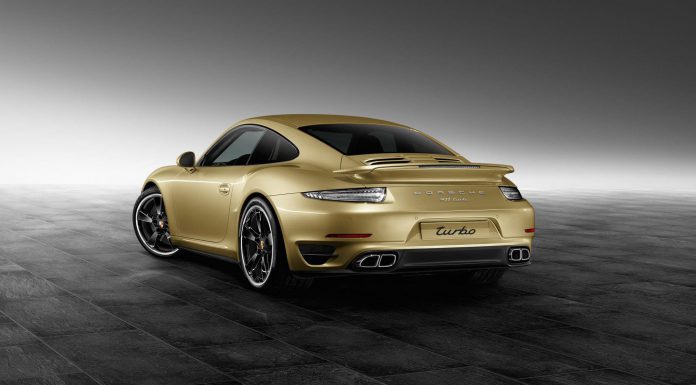 From a mechanical standpoint, Porsche Exclusive leaves everything stock. As a result, this unique 911 Turbo features the standard 3.8-liter twin-turbocharged six-cylinder engine producing 520 hp.
It is believed that this 911 Turbo by Porsche Exclusive is simply a one-off specced out by a Porsche adoring fanatic. However, we wouldn't mind seeing a few similarly finished 911 Turbos cruising the streets!