A couple months after teasing a Nyan Car wrap for his Ferrari 458 Spider, world renowned DJ deadmau5 has just posted the first couple of pictures of the unique wrap installed on his impressive 458 Spider which originally left the factory in white.
Sporting a few minor design tweaks from the previous computer generated images, this is certainly one of the most eye-catching Ferraris on the road.
Deadmau5 Ferrari 458 Spider Original Renderings

If you don't know what Nyan Cat is, then here is a brief rundown. A video entitled Nyan Cat was uploaded to YouTube in April 2011. Featuring a Japanese pop song with a cartoon cat flying through the night-sky and leaving behind a rainbow trail, Nyan Cat was the 5th most viewed YouTube video of 2011.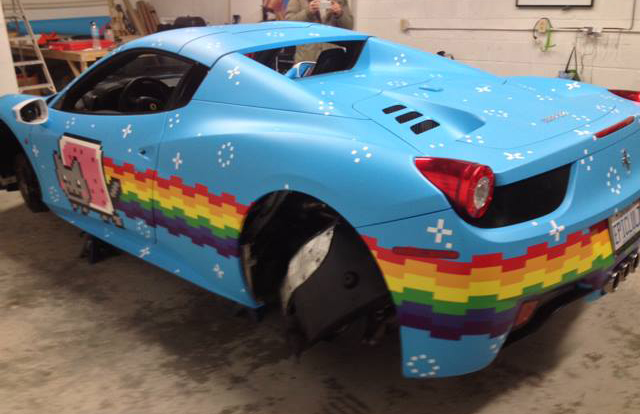 Also included in the first renderings were bright blue wheels and hot pink brake calipers designed to match the exterior wrap. While these two pictures don't reveal whether or not the wheels are being painted blue, we can at least see black brake calipers fitted leaving us hopeful that deadmau5's Ferrari 458 Spider will at least retain some sort of normality when driving down the road.
Under the hood, deadmau5's Ferrari 458 Spider is believed to be stock. As a result, it produces 570 hp courtesy of its 4.5-liter naturally aspirated V8 engine!