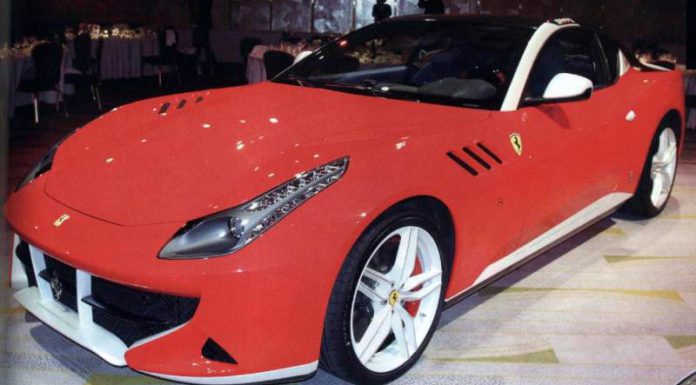 The Ferrari SP FFX which emerged in leaked patent drawings late last year is finally out in the wild with the following real life picture of the car leaking courtesy of a Japanese car magazine.
Reportedly commissioned by a Japanese Ferrari enthusiast, the Ferrari SP FFX is immediately distinctive from the regular Ferrari FF. At the front it features a new white splitter and revised grille design. It also includes new intakes feeding the brakes and six air outlets on the hood. The white theme is carried onto the bright white wheels covering red brake calipers.
The Ferrari SP FFX also features white side skirts, white A-pillars, a black roof and white wing mirror caps. Unfortunately, an image of the rear has yet to be released but it could likely feature a redesigned diffuser also finished in white.
However, the most significant visual change to the Ferrari SP FFX compared to the standard FF is that the FFX is actually a coupe and consequently resembles the F12 Berlinetta quite closely!
For those that didn't know, in Ferrari lingo SP stands for Special Projects and has been used for cars such as Eric Clapton's Ferrari 458 Italia based SP12.
More details about the Ferrari SP FFX will inevitably be released soon, so stay tuned for them!