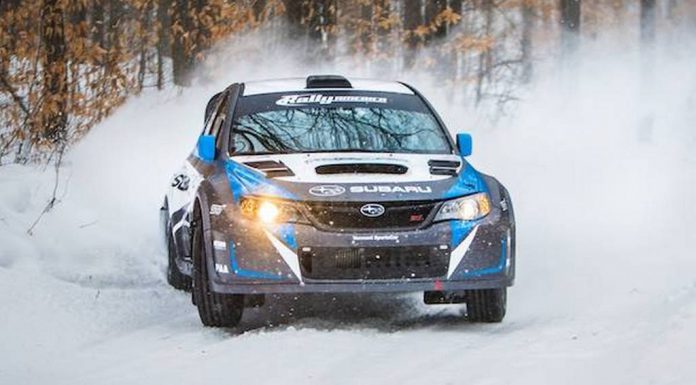 One of the most exciting rounds of the Rally America National Championship calendar took place this weekend, its the Sno*Drift Rally which went down in Atlanta, Michigan. Subaru Rally Team USA of David Higgins and Craig Drew won this round in their 2014 Subaru WRX STI amidst slippery conditions and running on non-studded tires.
They finished slightly ahead of second placed Rockstar Energy Drink Rally Team of Antoine L'Estage and co-driver Marshal Clarke in their 2011 Mitsubishi Lancer Evolution X. The Team had led day one, but suffered a tire puncture in Stage 5 and struggled to avoid the snowbanks while Higgins and his co-driver were unable to catch up due to overheating issues, worse even; their bonnet flipped open on one stage and they lost even more time while navigating.
Higgins was however able to take over the lead after the first service and led until to the end. Third on the podium was Super Production's Lauchlin O'Sullivan and co-driver Scott Putnam in their 2008 Subaru WRX-STI. The team has had an awful 2013 season and this was a good start for them, meanwhile another Super Production category crew of Dillon Van Way and Andrew Edwards finished second. In total Super Productions had 4 spots in the top seven finishes.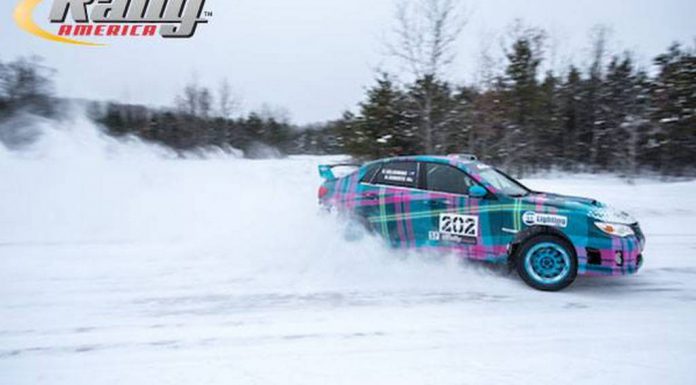 Scion Racing Rally xD's new driver, Matthew Johnson and his co-driver Jeremy Wimpey topped the 2WD category in their 2013 Scion xD, amidst tough competition from Ford Racing's Andrew Comrie-Picard, they were in relief after Picard lost time while stuck in a snowbank. This also helped his brother Troy Miller and co-driver Jeremy Miller move into second place. Closing the podium finishes in the 2WD category was Honda Performance Development team of James Robinson and Jordan Guitar.
Drivers' Quotes:
David Higgins:
Last year Antoine hurt us really bad when he beat us on the last stage at Sno*Drift, these difficult conditions can change so quickly and you never know what you are going to get. That just makes me pleased to set the year off and get the points in the bag. Now I am looking forward to getting on the gravel at the Rally in the 100 Acre Wood.
Lauchlin O'Sullivan
It's great to make a comeback after such a difficult 2013 season. To come out and get this was a work in discipline, especially when there are four up-and-coming SP drivers to compete against. I had to drive in these icy conditions not too fast or too slow. I just had to keep doing my thing and not worry about what the others are doing. I just avoided that one 'gotcha' that could end it.
Matthew Johnson
I'm really happy with this result, I've been mentally preparing myself to get back in the driver seat for a couple of years and I'm really fortunate to have this opportunity by Scion Racing. They prepared a great car with a special engine for Sno*Drift, and it really paid off for the team. I couldn't be more excited for the rest of this year!