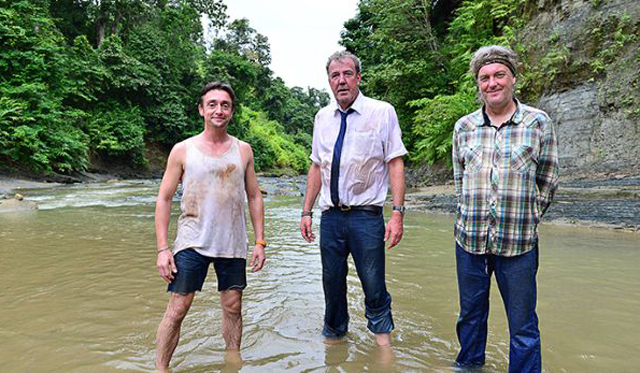 Following on from recent confirmation that Top Gear Season 21 is set to start on February 2nd, the Top Gear crew have released pictures showing some of the best adventures the trio of Jeremy Clarkson, James May and Richard Hammond have in store for the latest season.
The most interesting trip of Top Gear Season 21 will see the crew head to Myanmar (previously known as Burma) in three trucks. While it isn't yet known just what the trio will get up to during the epic adventure, it's set to be thoroughly entertaining. Additionally, Top Gear Season 21 will see Richard Hammond heading to the Middle East to drive the insane Mercedes-Benz G 63 AMG 6×6 in the desert!
May will jump inside the Caterham AeroSeven Concept for a rare power test from him while another challenge will see Clarkson, May and Hammond buying three different retro hot hatches and competing in a series of challenges. Arguably the highlight of Season 21 will see Clarkson driving the incredible McLaren P1 at the infamous Spa-Francorchamps race track in the heart of Belgium!
Other tests will see Hammond driving the brand new 2014 Alfa Romeo 4C while the BMW M135i will be pitted against the VW Golf GTI at the Top Gear Test Track. Finally, Top Gear will have a chance to drive the insane twin-charged V8 powered Zenvo ST1 on track!
Be sure to stay tuned to GTspirit for Top Gear Season 21 previews before each episode!