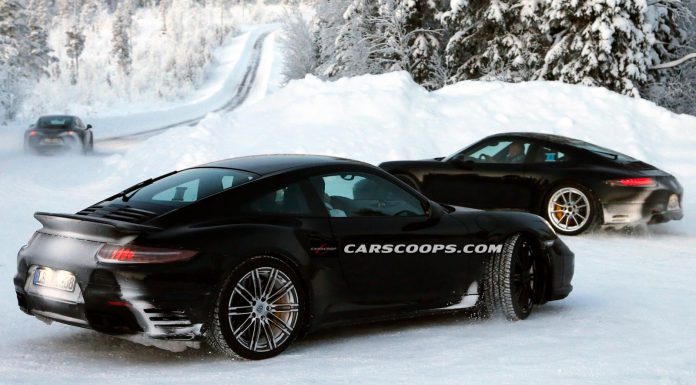 Back in mid-December, spy shots emerged reportedly depicting a facelifted variant of the only recently revealed 2014 Porsche 911 Turbo. However, our sources instead told us that the prototype spotted was not in fact a facelifted car and instead a test mule for the current 911 Turbo simply gathering further testing miles for technology improvements in the future.
Now, new spyshots of a slightly modified Porsche 911 Turbo prototype have emerged online again featuring the same styling tweaks as the previous testing vehicle. Some of these new visual changes include larger taillights, an additional slit on each side of the rear bumper as all as a front-end wearing some light camouflage.
GTspirit Road Test of 2014 Porsche 911 Turbo

While all of these changes do indeed point towards a facelifted version of the Porsche 911 Turbo, based on the fact that the current 991-generation Turbo was only revealed last year, we're doubtful that is what we're looking at. As a result, our suspicions indicate that this is simply a prototype for the current 911 Turbo raking up some extra testing miles and possibly previewing a few styling tweaks for different Porsche 911 variants.
As a reminder, the 2014 Porsche 991 Turbo comes with a turbocharged 3.8-litre six-cylinder with direct petrol injection producing 520 hp in the 911 Turbo and 560 hp in the Turbo S. It comes with two turbochargers and variable turbine geometry. Together with a new thermal management system for the turbo engine, fuel efficiency technologies have reduced average fuel consumption up to 16% to 9.7 liter per 100km.
Compared to previous models, the power level of the 911 Turbo was boosted by 20 hp and its torque was increased 10 Newton metres up to 660Nm. In the S model, power was increased by 30 hp and torque was increased by 10 Nm to 710 Nm. The increased power of the new 911 Turbo was achieved primarily through improving engine efficiency with higher combustion pressures, new valve timing and ignition angle tuning. In the engine of the S model, charge pressure was increased to 1.2 bar to enhance power and maximum engine speed was increased 200 rpm to 7,200 rpm.
[Via Carscoops]