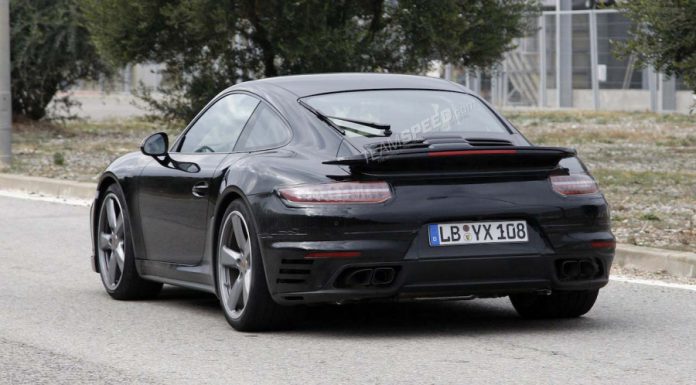 Just a few months ago, the 2014 Porsche 911 Turbo and 911 Turbo S were revealed and we had the chance to drive both of them. As you would imagine, both are absolutely spectacular sports cars capable of acceleration exceeding some of their mid-engined supercar rivals. However, now images have emerged reportedly showcasing a facelifted Porsche 991 Turbo testing under light camouflage!
As we know from the 997 generation Porsche 911, Porsche will eventually release a mid-life facelift for the 991 and at the earliest, such a facelift wasn't expected for a few more years. However, this 991 Turbo prototype is sporting dramatically redesigned taillights with a little bit of camouflage over them. Additionally, it features slightly redesigned front air intakes and slightly redesigned LED daytime running lights.
As a reminder, the 2014 Porsche 991 Turbo comes with a turbocharged 3.8-litre six-cylinder with direct petrol injection producing 520 hp in the 911 Turbo and 560 hp in the Turbo S. It comes with two turbochargers and variable turbine geometry. Together with a new thermal management system for the turbo engine, fuel efficiency technologies have reduced average fuel consumption up to 16% to 9.7 liter per 100km.
Compared to previous models, the power level of the 911 Turbo was boosted by 20 hp and its torque was increased 10 Newton metres up to 660Nm. In the S model, power was increased by 30 hp and torque was increased by 10 Nm to 710 Nm. The increased power of the new 911 Turbo was achieved primarily through improving engine efficiency with higher combustion pressures, new valve timing and ignition angle tuning. In the engine of the S model, charge pressure was increased to 1.2 bar to enhance power and maximum engine speed was increased 200 rpm to 7,200 rpm.
UPDATE: It has since been concluded that this is not in fact a facelifted variant of the 2014 Porsche 911 Turbo. Our source tells us that this prototype is just continuing to rake up development miles for the current model.
[Via Teamspeed]