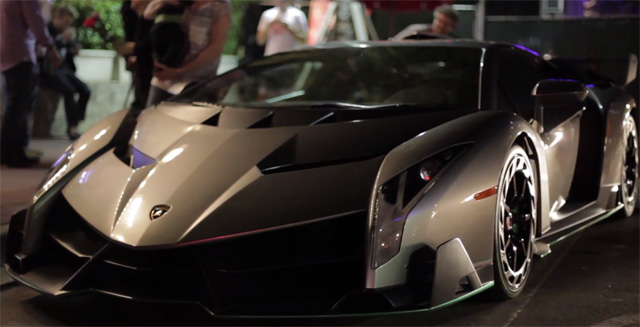 Just after we saw pictures of Kris Singh's brand new Lamborghini Veneno, duPont Registry has released an awesome video entitled 'The Delivery' showing just that, the delivery of his absolutely incredible Veneno supercar.
Additionally, the video includes interviews with Singh who reveals that when the one-off Lamborghini Aventador J was created, he tried to get it. However, he was unable to and expressed his interest on purchasing the next limited edition Lamborghini. He actually committed to the car in November, about five months before it was ever revealed at the Geneva Motor Show in March last year.
[youtube]http://www.youtube.com/watch?v=IthV60NY9p4#t=105[/youtube]
Making Singh's Veneno all the more unique is the fact that instead of the red pinstripping featured on the original display car which Lamborghini is believed to be keeping for itself, this example features bright green pinstripping. Additionally, it includes green accents on the wheels and green brake calipers!
With a maximum output of 750 hp, the Veneno accelerates from 0 to 100 km/h in just 2.8 seconds and the top speed for this street-legal racing car stands at 355 km/h. The Lamborghini Veneno features a twelve-cylinder power unit with a displacement of 6.5 liters, an extremely fast-shifting 7-speed ISR transmission with 5 driving modes and permanent all-wheel drive, as well as a racing chassis with pushrod suspension and horizontal spring/damper units.
Above all, however, the Veneno benefits from the very special expertise that Automobili Lamborghini possesses in the development and execution of carbon-fiber materials – the complete chassis is produced as a CFRP monocoque, as is the outer skin of this extreme sports car. The inside, too, features innovative, Lamborghini-patented materials such as Forged Composite and CarbonSkin.