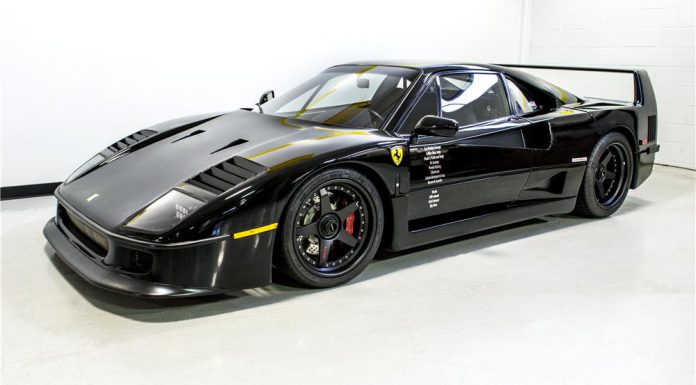 The infamous black Ferrari F40 restored and modified by the crew at Gas Monkey Garage for hit T.V show Fast N' Loud has sold for $742,500 at the Barrett-Jackson auction held in Scottsdale, Arizona. While there is no denying the fact that over $700,000 is a lot of money, it is well below what some other Ferrari F40s are selling for with original examples changing hands for well over $1 million.
However, this one-off Ferrari F40 did enter the auction with a reserve price which was ultimately met, so the person selling it must be happy with the result.
For those that didn't know, this Ferrari F40 started off life as a regular red F40. However, it was crashed with just 7,148 miles on the clock. The guys at Gas Monkey Garage, Richard Rawlings and Aaron Kaufman purchased it for $400,000 and set about completely transforming and repairing it. They stripped it down to the chassis and strengthened and fixed the damaged frame. The build was helped by Stuart Singer an expert in Ferrari restoration and M. Luongo, a leading tech-head and certified Lamborghini and Ferrari repairer.
Turned into the world's only Ferrari F40 fitted with some upgraded turbocharges for the 2.9-liter V8 engine, the Ferrari F40 by Gas Monkey Garage now delivers 550hp. Additionally, it features a completely unique black finish along with some custom black HRE wheels. It also includes new LED headlights and ditches the pop-up lights of the normal Ferrari F40.