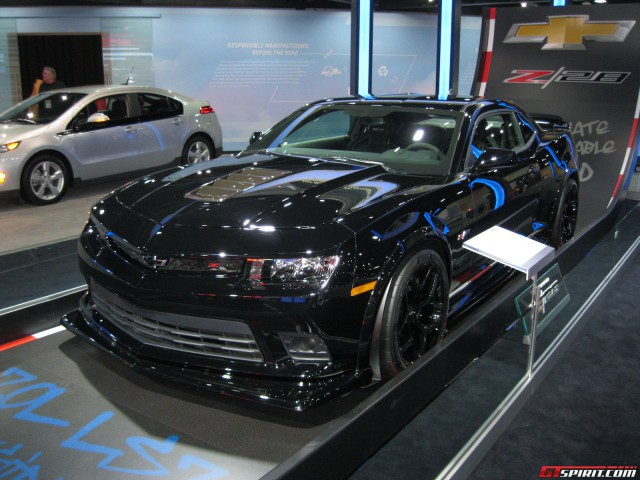 First introduced at New York early last year, the Chevrolet Camaro Z/28 has only just gone on sale and is on display at the ongoing Detroit Motor Show 2014! Unlike all other Camaro Z/28s which we saw throughout 2013, this particular one is finished in black and looks extremely aggressive. We were on hand to snap the following pictures of it!
As you've probably noticed, the black paint scheme of this 2014 Chevrolet Camaro Z/28 really makes it look like a muscle car Bumblebee from the Transformers movie franchise would be envious of. When combined with the gloss black wheels, unique front Chevrolet badge and the prominent black front splitter, this Z/28 certainly caught our attention!
Under the hood, the 2014 Chevrolet Camaro Z/28 features a similar 7.0-liter LS7 V8 engine as present in the previous-generation Chevrolet Corvette Z06 with it delivering 500 hp and 470 lb-ft of torque. Consequently, the car is three seconds faster around GM's test track than the Camaro ZL1.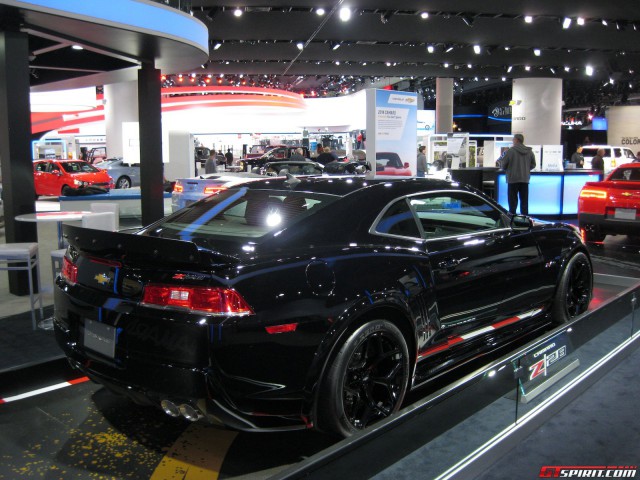 In order to restrain this power and help bring the car to a safe stop, Chevrolet then went about tinkering with the brakes and have fitted it with brand new Brembo carbon-ceramic brake discs capable of generating 1.5g of deceleration.
For more on the Chevrolet Camaro Z/28, take a look at our earlier article. Remember to bookmark our Detroit Motor Show 2014 channel for the latest Detroit Motor Show News!