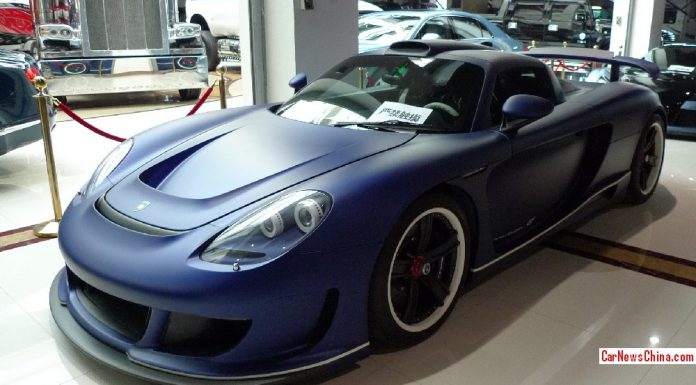 Remember the stunning Gemballa Mirage GT Matte Blue Edition we tested back in August 2011? Well, now that very same Mirage GT is up for sale in China with an asking price the equivalent of $2.27 million USD!
A total of 19 Mirage GTs exist globally, making it one of the most exclusive and rare supercars out there. The basis for the vehicle is the Carrera GT, Porsche's fastest and most expensive supercar in its time, challenging the Ferrari Enzo and the Mercedes-Benz SLR McLaren for the title of ultimate supercar of the early twenty-first century.
As the name suggests, this unique Matte Blue Edition features custom matte blue paint work and includes all the same visual upgrades as all other Gemballa Mirage GTs. In addition the exterior and interior visual changes, the Gemballa Mirage GT Matte Blue Edition also features a more potent engine.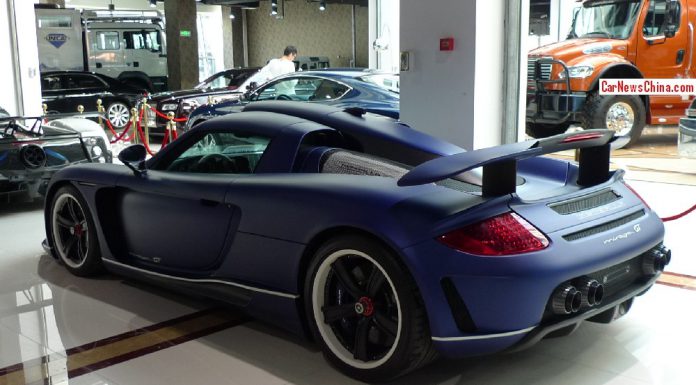 Stock, the 5.7-liter V10 engine from the Porsche Carrera GT on which the Mirage GT is based delivers 612 hp at 8,00 0rpm, 590 Nm at 5,750 rpm and it will take you to 100 km/h in 3.9 seconds, and from zero to 193 km/h in 9.9 seconds. The red line is at 8,400 rpm and the top speed is 330 km/h. By comparison, the Gemballa Mirage GT delivers 670 hp at 8,000 rpm and 830 Nm of torque at 5,700 rpm.
GTspirit Road Test of Gemballa Mirage GT Matte Blue Edition

No details about the mileage of this Mirage GT have been released, but expect it to be very low to somewhat justify the inflated price tag!
[Via Car News China]