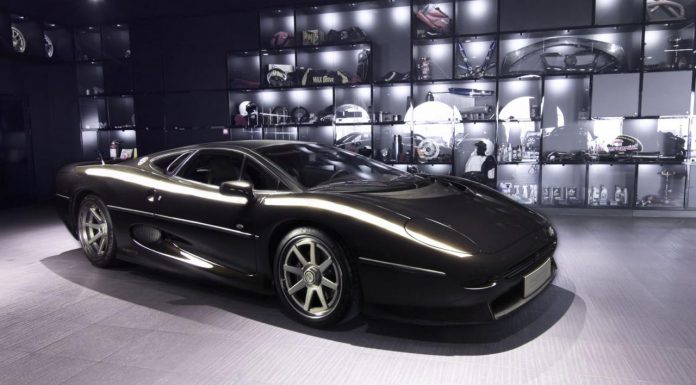 Once the world's fastest production car, the Jaguar XJ220 from the early 1990s is the quint essential supercar of that time. Powered by a 3.5-liter twin-turbocharged V6 engine instead of the 6.2-liter V12 originally promised and used in the XJ220 Concept, the British supercar could hit an incredible top speed of 343 km/h. What's more, it also held the production car lap record around the Nurburgring from 1992 to 2000 at 7:46.36.
Because the Jaguar XJ220 is such a classic, very few firms have been brave enough to modify it. However, earlier this year, Bulgarian tuner Overdrive Ad released their special variant of the XJ220 featuring a host of interior and exterior modifications. Now that very car is up for sale courtesy of Auto Performance in Germany with an asking price of 400,000 euros.
Staring from the rear, the XJ220 by OVERDRIVE AD features taillights borrowed directly from the Ferrari 599 GTB. Aside from that, the changes are quite subtle and tasteful with the car now rolling on a set of wheels courtesy of ADV.1. The wheels measure 19×9 at the front and 20×14 at the rear and replace the original wheels of the car which were extremely old-fashioned.
Next up, the car features completely custom LED headlights and inside the cabin, it features carbon fiber trim, leather and Alcantara upholstery, a McIntosh player as well as a Ground Zero stereo system. Completing the changes is a custom Akrapovic exhaust system.
[Via Autoblog.nl]