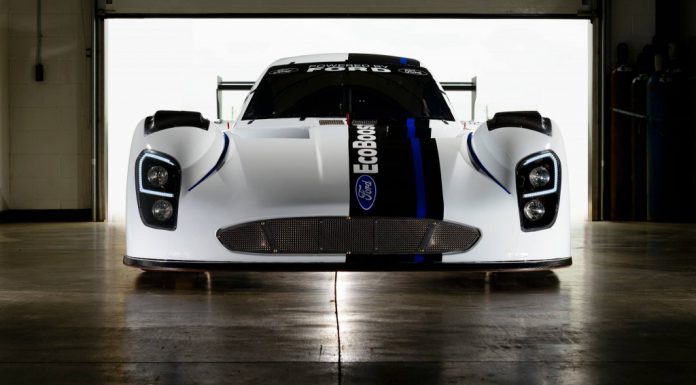 Back in October, the Ford Racing EcoBoost Prototype managed to set two world records at the Daytona International Speedway. Now these two world speed records have been homologated and made official by the FIA's Land Speed Records Commission.
Setting out to trump the highest average speed lap around the Daytona International Speedway of 210.364 mph set by Bill Elliot in 1987 in his NASCAR, Ford smashed the record. In fact, the Ford Racing EcoBoost Prototype managed to lap the circuit at an average speed of 222.971mph thus completing the lap in just 40.364 seconds!
When discussing the FIA's recent homologation of these two new records at the track, the man behind the wheel Colin Braun said, "It is pretty cool to have the record run be homologated by the FIA. It was exciting to be right on the edge, and it was much tougher than I expected it was going to be to go break these records. The FIA has incredibly high standards and my hat is off to everyone at Daytona, Ford, Continental Tire, IMSA, and Michael Shank Racing for the all homework they did to prepare for the run with the new EcoBoost motor. It was a pretty exciting day for everyone and it is something I'll always remember. To have it be certified for the record books is a great reward for all the work that went into this."
Set to compete in the upcoming 2014 TUDOR United SportsCar Campionship Series, the car features Ford's extremely impressive EcoBoost engine technology.
In fact, the new Ford Racing EcoBoost Prototype is powered by a 3.5-liter EcoBoost V6 engine. Unfortunately, Ford has remained tight-lipped about the specifications of this unit but did reveal that the engine has undergone endurance testing on the dyno in Michigan. While Ford could have inevitably built the engine completely by itself, the automaker enlisted the help of Roush Yates Racing Engines to help make the powertrain endurance ready.