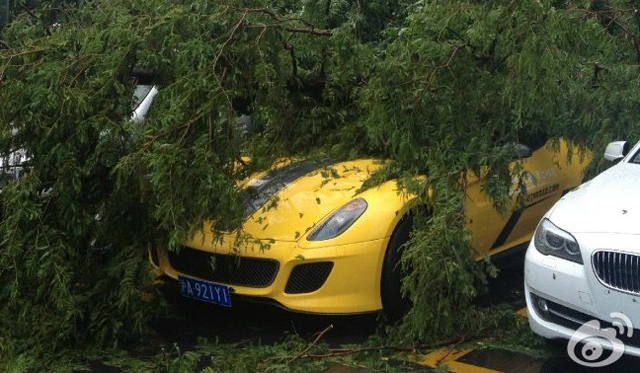 No one likes parking their cars outside. When you park your car outside, it is obviously open to all the elements whether that be harsh hail or snow through to searing heat. The following yellow Ferrari 599 GTO is the perfect display of the dangers of parking your car outside as it recently had a run in with a large tree in China following a severe summer storm.
The following pictures were obviously taken with many of the tree branches still resting on the rare Ferrari supercar. As a result, it's hard to see the extent of the damage but if the tree trunk or even part of it landed on the aluminium body of the 599 GTO, the damage could be quite expensive and a sight for sorry eyes.
Thankfully, no mechanical damage would have been done and that is a relief considering that the Ferrari 599 GTO is the most potent Ferrari offered for quite some years. Under the hood, it features an uprated 6.0-liter V12 engine producing a total of 661 hp at 8,250 rpm ad 620 Nm of torque at 6,500 rpm. Consequently, it can reach 100 km/h in just 3.35 seconds and a top speed exceeding 335 km/h. For those that didn't know, it is said the 599 GTO is made up of more features from the 599XX than the regular 599!
[Via Car News China]