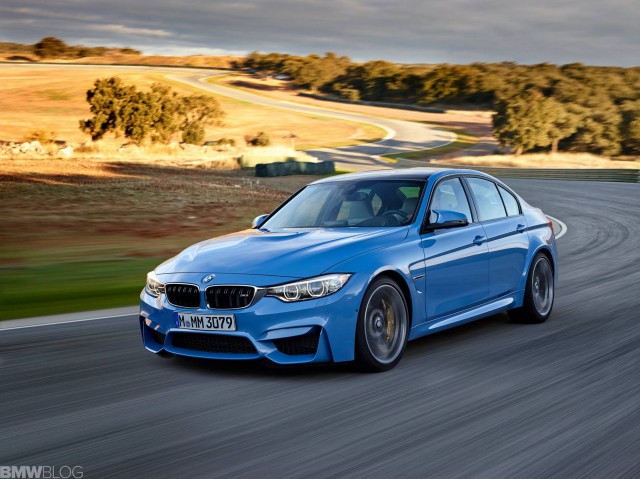 Just a few hours after the very first teaser video of the upcoming 2014 BMW M3 and 2014 BMW M4 was released, the two cars have officially leaked online! It is expected that both cars will be officially revealed sometime tomorrow.
Starting with the 2014 BMW M3, it looks just as expected after images emerged showcasing a bright blue example during its official photoshoot. This particular BMW M3 features the same in-your-face paintjob and all around, the styling changes over the outgoing model are quite extensive.
Starting at the front, the BMW M3 features a brand new front fascia in line with the current 3-Series. It also incorporates a black BMW kidney front grille, extremely aggressive dual front air intake surrounds and a new bonnet featuring a power dome. It also features more sporty wing mirrors and this display car has new twin five-spoke grey wheels, gold brake calipers and a bare carbon fiber roof.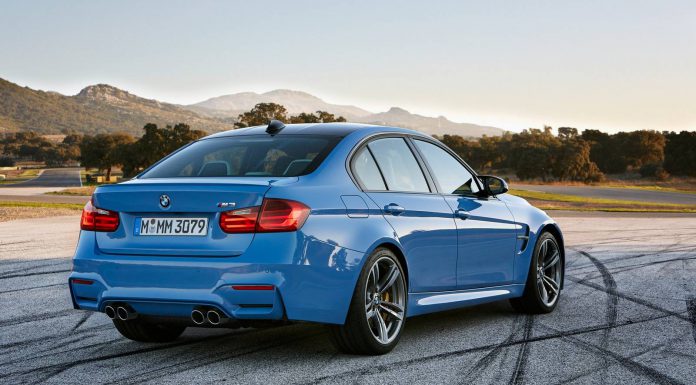 At the rear, the 2014 BMW M3 features a new fascia with a completely new rear bumper and diffuser. It does however maintain the same quad exhaust pipe layout as the outgoing model. When compared to the previous BMW M3 sedan, the 2014 model features similar taillights to the BMW M4 Coupe.
Speaking of the 2014 BMW M4 Coupe, it looks pretty much identical to the concept version released earlier this year. Finished in a unique shade of gold with matching calipers, it maintains the traditional BMW shark fin of the regular 4-Series Coupe while also featuring a carbon fiber roof. From the front, it features all the same styling traits of the new M3 albeit everything is a bit lower and a little sleeker.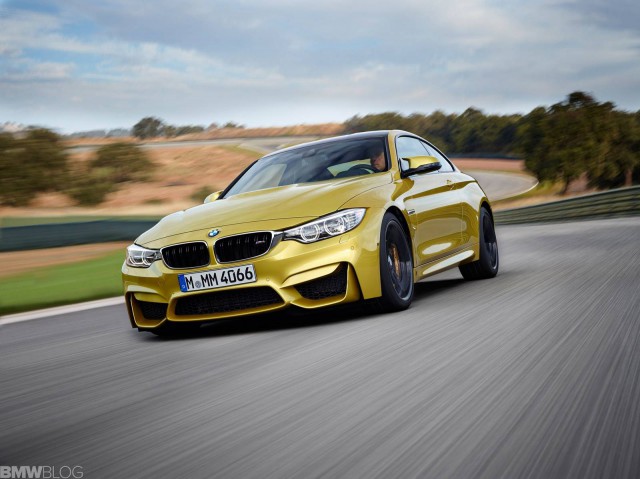 This is carried into the rear which features slightly narrower and more flowing taillights than the M3 and a slightly more flowing rear bumper.
Stay tuned to GTspirit for the official release of the two very soon!
[Via Club Lexus]