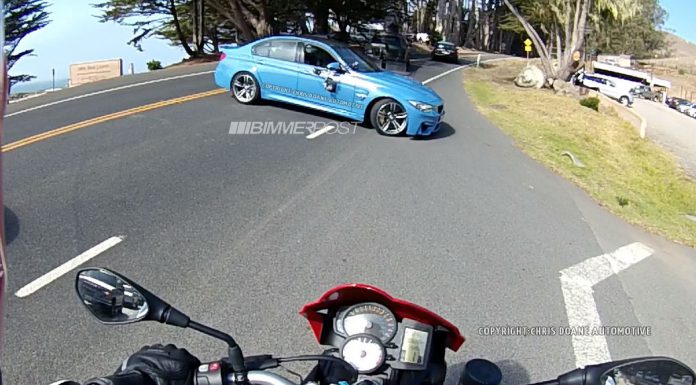 It seems that the 2014 F80 BMW M3 has been spied without camouflage whilst filming an advertisement. This latest sighting appears to confirm that BMW will soon unveil their flagship 3-Series, perhaps as soon as the Detroit Motor Show 2013. It looks pretty incredible in Yas Marina Blue with its carbon fiber roof.
The F80 BMW M3 Sedan looks as we would expect it to. It gets a unique front bumper with deep air vents and a vertical intake on either side. The hood features a power dome which looks slightly smaller than the outgoing model, at the sides, BMW have chosen to use a larger fender vent combined with a stylised side skirt. The rear gets the same quad tailpipes as the outgoing model with a carbon fibre bonnet spoiler. Overall, the lines create a fantastic wide body look.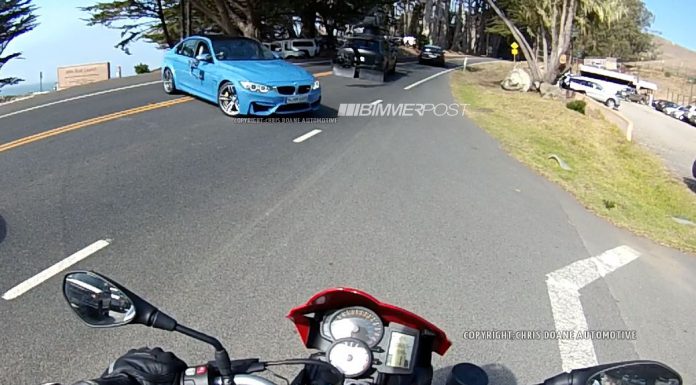 Underneath, we expect the 2014 F80 BMW M3 Sedan to feature a twin-turbocharged 3.0-liter straight-six with a modest output of 430 horsepower and 369 lb-ft of torque. It should be around 80 kilograms lighter than the outgoing model with consumption and emissions reductions of 25%. The gearbox is expected to be a 6-speed manual transmission which shed 12kg and features carbon fiber friction linings and automatic throttle blips on downshift. Customers will also get the option of a 7-speed M DCT (double clutch transmission) with launch control.
[youtube]http://youtu.be/J7thdV-bNZE[/youtube]
BMW executives seem to have taken a high risk approach with their new range of 3-series based performance cars. We saw the BMW Concept M4 at Pebble Beach earlier this year, yet it was inexplicably absent at the Frankfurt Motor Show 2013. Having missed the obvious place to present its new flagship concept, customers in its home market have been scratching their heads.
Hopefully BMW will have something to present to European customers at the Geneva Motor Show 2014 which will make up for it! See the full set of images over at BimmerPost.