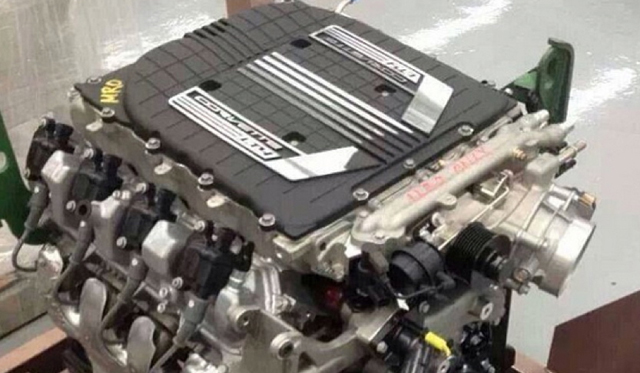 Chevrolet just revealed the very first teaser show of the upcoming 2015 Corvette Stingray Z06 while confirming that it will debut at the Detroit Motor Show next year. However, while we all know that the latest Z06 will be incredibly fast, no confirmation has been given about what will power it.
Some suggest that it could feature a single turbocharged or maybe a twin-turbocharged 4.5-liter V8. Others claim that it will be a brand new 7.0-liter V8 unit. However, in our eyes a 6.2-liter V8 engine is much more likely. Back in early October, an image appeared online reportedly showcasing a supercharged 6.2-liter V8 engine and said to be utilised in the upcoming C7 Corvette Z06.
Now, a new image has appeared online again showcasing a supercharged V8 engine from Chevrolet. However, unlike the other, this one has visible LT4 badges and could very well be the unit heading into the brand new 2015 Chevrolet Corvette Stingray Z06.
Whatever does power the new Z06, it will inevitably be a true world-class performance machine. In the standard Corvette Stingray, its LT1 V8 engine delivers 455 hp and 460 hp with the optional sports exhaust system. However, under the hood, the 2015 Corvette Z06 could easily deliver around 600 hp not too far behind the C6 ZR1.
[Via Motor Authority]